This weekend (3/17/13) there was an intriguing lecture at the Tuxedo Library entitled the Essential Manners for Men, given by author Peter Post, the great grandson of the famed Emily Post. He spent the good portion of his time providing an overview of Emily Post's life while discussing the family role to help carry out her legacy.
Peter Post is the managing director of the Emily Post Institute and author of 5 books on manners –for men, couples, business people, and golfers. Central to his discussion was clarifying the role etiquette plays in our lives. Post stressed that etiquette is a means of building relationships and a way to prevent problems. Key points included:  
1.)    it's not what you decide, it's how you decide to do it, that matters.
2.)    That perspective really matters
3.)    To think before you act
In Manners for Couples, Post writes, "Etiquette is not about being excessively or insincerely polite with each other, or living by a set of artificial rules." Rather it is acting with consideration, respect and honesty.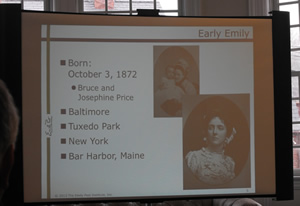 Emily Post was born in Tuxedo Park in 1872, the daughter of architect Bruce Price, who was responsible for the planning and development of Tuxedo Park. Some interesting facts about Emily Post:
She married once only - in 1892 and divorced in 1906
She enjoyed acting in her youth, but was discouraged from pursuing it.
She wrote numerous books, some of which are out of print and are hard to get a hold of, like How to Behave though a Debutante.
She was an architectural consultant and talented designer.
When asked to publish a book on Etiquette, she said to the publisher "It'll be a small book. I haven't got much to say. The whole subject can be reduced to a few simple rules."
She had a popular radio show in the 1930's, as a talk show host.
She was an activist, against prohibition.
She was one of Life Magazine's most important people of the 20th century.
She lived a long life, dying in 1960 and is buried in Tuxedo Park.
After the lecture I purchased a copy of Essential Manners for Couples.  Having started reading it, I'm looking forward to continue working at building a more positive relationship with my significant other. With ample tips fostering good manners, I hope to achieve that result. I also look forward to discovering the life of Emily Post through her writings and biography.