Exhibit by Robert Skinner Highlights OCLT's Nature Preserves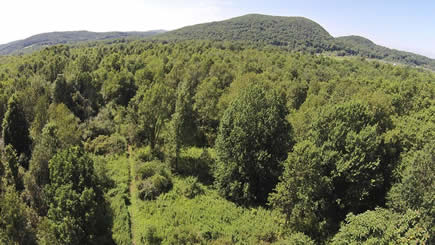 Sugar Loaf, NY (OCLT): A new multimedia exhibition featuring the Orange County Land Trust's public nature preserves will open on Friday, November 6. An Opening Reception will be held from 6-8 pm at the Seligmann Center for the Arts in Sugar Loaf.
Preserves for the People is a new project by artist Robert Skinner that explores the natural beauty of the Land Trust's nature preserves with an emphasis on the connection between nature and the human spirit.
The exhibit includes a variety of photographs and aerial video footage focusing on the preserves and the people that seek enjoyment and pleasure in visiting and stewarding the land, including volunteers and casual hikers.
"By capturing and documenting these lands and the people drawn to them, I hope to instill a greater appreciation for nature and how much we rely on the outdoors for rejuvenation, relaxation and overall well-being," stated Robert Skinner. A number of Land Trust preserves will be showcased, including those in the Towns of Hamptonburgh, Wallkill, Chester, Blooming Grove, Greenville and Warwick.
The exhibit, which will be on display until November 14, was made possible with funds from the Decentralization Program, a regrant program of the New York State Council on the Arts with the support of Governor Andrew Cuomo and the New York State Legislature and administered by Arts Mid-Hudson.
The Seligmann Center for the Arts is located at 23 White Oak Drive in Sugar Loaf. Gallery hours are Monday through Friday from 9 am – 5 pm, and weekends by appointment only.
Robert Skinner is a social documentary and commercial photographer whose work has appeared in numerous regional galleries, and in publications such as Dupont Fine Home Registry, Christies Great Estates, Sotheby's International, 201 Magazine, Arts and Crafts Homes, New Jersey Life, Design NJ, and Down East. His most recent project, Salt of the Earth, focuses on the farmers and farm families who worked with the Orange County Land Trust to protect their land from future development.
Since 1993, Orange County Land Trust has helped preserve over 5,000 acres of land in communities throughout Orange County. These lands include working farms, wildlife habitat, scenic ridgelines and natural landscapes. The Land Trust owns and stewards over 1,000 acres of land including several nature preserves, which are open to the public for hiking and other forms of passive recreation. For more information, visit www.oclt.org.