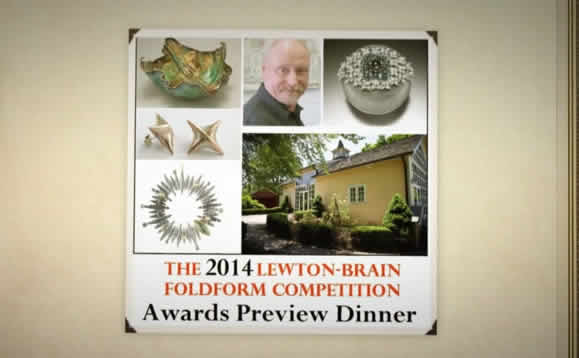 AUG 1, 2014: YOU ARE INVITED to dinner with foldforming pioneer Charles Lewton-Brain as he reveals the 2014 Lewton-Brain Foldform Competition WINNERS. The awards preview dinner is on August 1, 2014 at 6:30 PM EDT at the Seligmann Center for the Arts in Sugarloaf, NY. Catering is by none other than local favorite farm-to-table Black Dirt Gourmet / W.Rogowski Farm.
The Seligmann Center is at 23 White Oak Drive, Sugar Loaf, NY. Tickets are $20 and will be sold at the door only if seats are available. Please purchase in advance at
http://www.centerformetalarts.com/sto...
.
The Center for Metal Arts is proud to host the annual Lewton-Brain Foldform Competition in conjunction with Charles Lewton-Brain's annual four-day foldforming workshop intensive. This year's workshop is Foldforming Boot Camp on Aug 1-4, 2014. Workshop attendees will enjoy knowing that the Seligmann Center is just minutes from the Center for Metal Arts, for those who would like to attend both.
More about the competition
2014 judges: Hazel Wheaton, Editor of Art Jewelry magazine, Alan Revere, Founder and Director of the Revere Academy of Jewelry Arts, and Charles Lewton-Brain, Foldforming Pioneer.
2014 Sponsors: Rio Grande, The Ganoksin Project, Art Jewelry magazine, and the Center for Metal Arts.