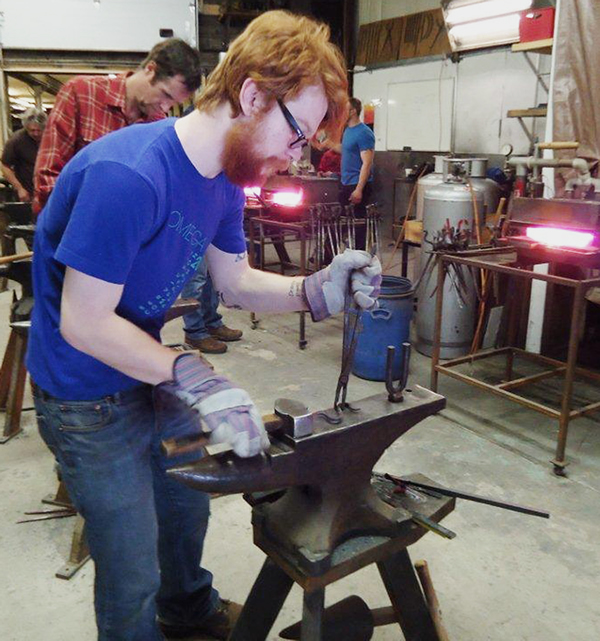 In the job market for part-time and after-school work for teens, employers share stories of the kid who didn't know how to hold a rake, who mowed the lawn by backing up half the time over their last pass, who had never hammered a nail or understood how to accomplish a physical task.
Training in hands-on work and life skills are often cut from school budgets and missing from real life opportunity as well. There is the student who is smart in his or her own way, but who just doesn't fit into the academic program. There is the student who relies on parents to get through the year. There is the student who lags behind on skills and is frustrated and angry. There is the student with creative hands who can't wait to get the academic stuff behind him or her.
The Center for Metal Arts is building a program for just these teens, with an Introduction to Blacksmithing for High School Students at the metal arts studio in Florida NY on Saturday September 28, from 9 AM to noon. The day will offer blacksmith demonstrations and activities, and will invite participants to step inside a working studio, to experience the sights, sounds, and tool of the metal shop. Participants will get to try their own hand at forging, and may be even try out some foldforming. The morning will finish with a lunch Q & A with working metal artists for a chance to hear personal stories of what it is like to work in the metals.
"Working with one's hands is a way of building the mind-body connection," says program director Rhoda Mack. "A task like blacksmithing is a way of bringing one's intention and willpower to the iron, and in a subtle way it develops those 'life skill' muscles that will atrophy if they are not developed."
The program is open to high school students ages 13-17. Advance registration is online at www.centerformetalarts.com, or call (845) 651-7550 for more information. The Intro to Blacksmithing for High School Students is $45 for the event, and includes lunch.
The Intro to Blacksmithing for High Schoolers program is looking for students who are having trouble fitting into the traditional academic program, or who are looking for a career alternative to college, or just want to experience working with their hands. The workshop is an opportunity for high schoolers to explore and experience possibilities beyond the high school walls.
The Center for Metal Arts has been holding classes in the metal arts since 2003, attracting high caliber international instructors. Adjacent to the classroom area is the working studio of Fine Architectural Metalsmiths, in the renovated 1890's Borden's Creamery Icehouse. The gallery showroom is an idea factory of "sketches in iron" metal design, repousse, foldform work, bronze casting, forge work studies, and finishes. Fine Architectural Metalsmiths, at www.iceforge.com, has been an award-winning metal arts studio since 1981. Located at 44 Jayne Street in the picturesque farm village of Florida, NY, the Center for Metal Arts offers workshops and seminars for metal artisan professionals, artists, and design professionals as well as individuals wanting to work with metals as a life skill.
For more about the Center For the Metal Arts, read our featured story http://www.warwickvalleyliving.com/arts-and-entertainment/art/118-fine-architectural-metalsmiths-and-center-for-the-metal-arts-carrying-on-traditions,-inspiring-new-generations