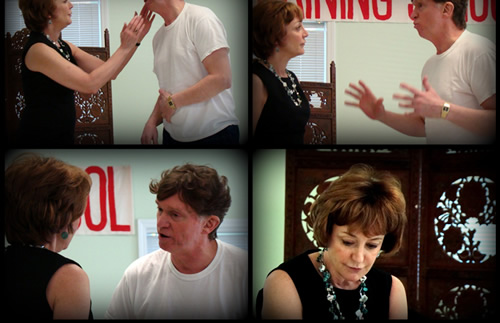 Friday evening, and you're eager to leave the weekly 9 to 5 grind behind until Monday. If you've ever contemplated acting or have stepped across the stage in your lifetime, why not lose yourself in a character at the MCC Actor Training School? For over two years, I myself have numbered among the members of this class and had a wonderful time doing so. Donna Haley is our ever-enthusiastic director/mentor and gives us the benefit of her years of being an acting teacher as well as an actress in her own right. There is a wonderful sense of community and friendship among cast mates/classmates, no matter what role you are given, or how zany the character might be, they are supportive and encouraging when you need it most.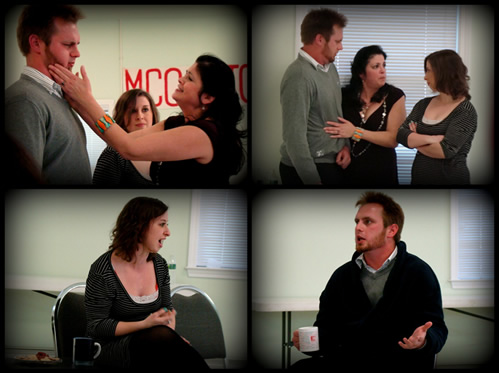 As depicted in the photos, the class recently performed scenes by Christopher Durang and Neil Simon. The scenes were hysterically acted doing both playwrights justice. Once you've experience the camaraderie of the class and the creative challenges of acting, one semester may not suffice as I have discovered. Being part of this talented group of people is like a fun gathering of friends as well as a strong training ground in acting. Overall, the class is more of a 8 − 12 week workshop than a full-out play. The focus lies on trimmed-down excerpts from larger bodies of work. From "A Streetcar Named Desire," to "Our Town" the class also has all the benefits of being in a play without the rigors of daily rehearsals.
Classes are held 7:30-9:30pm on Fridays. Ms. Haley also has a teen class that meets earlier on Friday afternoons, which focuses more on improvisation. For more information, including tuition fees and how the school was established go to www.mccactortrainingschool.com.