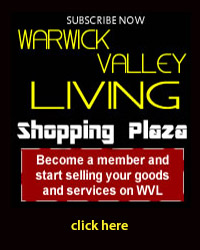 We are looking forward to bringing many artists and merchants together in one place at WVL's Shopping Plaza. Each week we will feature a different artist, merchant and other sellers with the intent of promoting sales. There are a number of reasons why you should consider WVL to sell your products, works of art, services and more. For some of the same reasons, you might consider buying merchandise on Warwick Valley Living.
TRAFFIC TO THE WEBSITE: We currently get over 10,000 unique visitors a month. This is one incentive to sell your products on our site. We have a built in audience which we continue to develop thru promoting stories and events. Your role as a seller will give us further incentive to grow our audience, bring awareness to what you do, and impact the bottom line, which is bringing in more revenue.
SHOPPING CART TECHNOLOGY: The shopping cart technology on our website enables each seller to get paid immediately upon the sale of the item. The commission then is instantly deducted and disbursed from the proceeds from the sale of your item. This way no fees are owed; they are taken care of when the money is received.
WE PROMOTE, YOU CREATE AND SELL: Our energies go into promoting your work through our newsletter and social media presence. Weekly we will feature new sellers on our site. Specific links in our newsletter will showcase products. Daily posts in the social media arena will bring awareness to our sellers and their products and services.
GOOD ADVERTISING VEHICLE: You might ask yourself, do I really have anything to sell, even if it is one CD or a few $99 cent downloads? Is it worth the $200? There is more to this than selling cds. Visitors will browse categories and see your name and business alongside those cds you are selling when they click on the vendor link. This is an advertising opportunity. It keeps your name out there. You may have other things you may want to sell that go in other categories. You can also sell a service you offer - a workshop, a gift certificate, a discounted offering for your service, etc. We will embrace what you may bring to the table.
SYMBIOTIC RELATIONSHIP: By supporting us, you will be supporting a community business that is focused on supporting you and working on promoting and connecting the best in the community. We support local. You support local. This is a powerful symbiotic connection, an ecological winning formula for greater sustainability.
BIG FISH IN A SMALLER POND: Selling your works on CD Baby, Amazon, Ebay or Etsy is fine, but at the same time you are competing with millions of sellers who are online trying to sell their work. We have a niche arena: The Warwick Valley.
SHARED INTERESTS: We like the arts market, we appreciate good merchandise, we love quality products and things that are being produced locally. We encourage it. We believe there is a market for this service and we believe that it must be promoted. It is the right thing to do.
A GROWING ONLINE UNIVERSE: As much as we recognize that our communities have been fractured by the online marketplace, our solution is to incorporate online selling on a more local level in order to create sustainability, locally. Trends show us that the online universe continues to expand. What are we going to do? We can't change time, nor this trend. So let's make it our friend.
For $200, you get:
A shopping cart and vendor area. You can upload unlimited products for the duration of a year, update your description and provide other information to visitors.
A page with your logo, website link, social media buttons, description of your business and inventory of your products on our site with links that showcase individual products that can be easily purchased.
Greater search engine visibility. When you are listed on Warwick Valley Living expect your name and products to be discovered on search engines.
Placement on a vendor's map
Training on how to use the shopping cart and upload items successfully.
A Weekly newsletter that goes out to our subscribers and is posted on our social media pages.