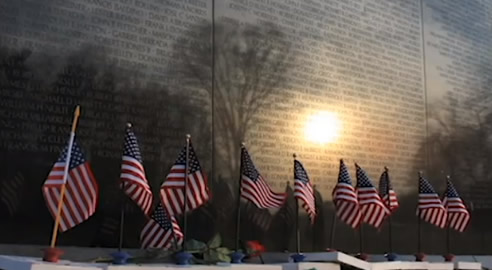 Memorial Day Speech Given at Tuxedo High School, May 24, 2013 by Russ Vernon
............
It is an honor to share my thoughts with you today.  As a veteran I take great pride in America and the American spirit and feel it important for each of us to take a few moments of reflection and remembrance prior to embarking on this Memorial Day weekend.
Memorial Day symbolizes a time for each of us to take a clear look at both the past and the future.  This is the Day each year when we acknowledge the debt owed to those men and women who because they so cherished peace and freedom they were willing to give their lives.
For more than 237 years our military has stood guard against our enemies.  In that time our world has changed but the valor and courage of the men and women who serve has remained the same.  From Valley Forge to Dessert Storm, from San Juan Hill to Viet Nam, from Gettysburg to Omaha Beach from Iwo Jima to those serving today in Iraq and Afghanistan, the fighting spirit of the American soldier, sailor, airmen, marine and coastguardsmen transcends the history of our nation.
Let me provide some numbers to provide perspective. The combined populations of Tuxedo and Greenwood Lake is about 7000. 
In the Revolutionary War 25,324 gave their lives.
In the Civil War 562,130 gave their lives.
In WWI 116,708 gave their lives.
In WWII 408,306 gave their lives.
In the Korean War 54,246 gave their lives.
In the Viet Nam War 58,219 gave their lives.
In Operation Iraqi Freedom 4,452 gave their lives (Lou Allen among them)
In Operation Enduring Freedom in Afghanistan to date 2,114 have given their lives (Scott Lynch among them)
In total 1,260,686 have given their lives not to mention the additional 1,581,069 who have come home wounded in action. 
Why did those that we remember today serve?  They do it not because they believed war is good, but because unfortunately, sometimes it is necessary.  They fought and died not for the glory of battle but for the prize of freedom.  Who were those that gave their life for our liberty? They were all very different, ordinary people willing to do the extraordinary.  They were black, White, Hispanic, Asian, Jewish, Catholic, Protestant and Buddhist.  They were of Greek, Italian and Polish heritage and hundreds of other variations.  They came from big Cities like New York and smaller communities like Tuxedo and Greenwood Lake.  Yes they were different but what is most important is that they were all very much the same.  Regardless of race, creed, color or gender, they were all Americans.
As we remember these servicemen and women let us think of the words of Father Denis Edward O'Brien who so well said:
It is the soldier/sailor, not the reporter, Who has given us freedom of the press.
It is the soldier/sailor, not the poet, Who has given us freedom of speech.
It is the soldier/sailor, not the campus organizer,Who has given us the freedom to demonstrate.
It is the soldier and the sailor,Who salutes the flag,Who serves beneath the flag,
And whose coffin is draped by the flag, Who allows the protestor to burn the flag."

As we leave here today and enjoy the weekend barbecues and time with family and friends let us give thanks for the legacy those who sacrificed have left us with and let us pray for the safety, well being and health of those who continue to serve and protect all that we value and cherish so dearly. And if you get the chance when you see someone in uniform serving proudly today, don't be shy, walk up to them, smile and let them know you are appreciative of their service.  I promise you it will make their day.
Thank you and may God Bless each of you and may God Bless America!
---
Russ Vernon is founder and General Partner of BVM Capital. 
In the public sector, Russ served as a full Colonel in the New York Army National Guard until 2004. He has served in numerous positions including Commander of the 1st Battalion 69th Infantry, "The Fighting 69th", the Inspector General of the 42nd Infantry Division, Military Liaison to the New York State Department of Governmental Affairs and Commander of the New York State ARFOR Command.  He has also served as a Trustee and Deputy Mayor of Tuxedo Park.

Russ holds a Bachelor of Science from the United States Military Academy at West Point, a Master of Business Administration from Columbia University and a Master of Strategic Studies from the United States Army War College.  He is also a graduate of the United States Army Infantry Officer Basic and Advanced Courses, Command and General Staff College and the Infantry Battalion and Brigade Command Course.

Among his numerous military decorations are the Army Achievement Medal with Oak Leaf Cluster, Army Commendation Medal with two Oak Leaf Clusters and the Meritorious Service Medal with Oak Leaf Cluster. His badges include the Expert Infantryman Badge, Air Assault and Airborne Wings and the coveted Ranger Tab. 

He serves on numerous boards to include the Orange County Industrial Development Agency, Orange Regional Medical Center, The Greater Hudson Valley Health System, National Purple Heart Hall of Honor and the Newburgh Armory Unity Center.