Health & Spirit
Details
Jay Friedman, age 41

Where are you from?
I grew up most of my life on Long Island in Merrick.
How did you end up in Warwick?
I have an aunt and uncle who have been living here for maybe 35 years. I was in the restaurant business for maybe 11 years, basically right out of college when I was 23. My family had a steel fabrication business that went under after forty years. I was playing in a band and my drummer's father owned a little Mediterranean cafe falafel place and the next thing I knew, we owned that place. I stood over a grill for eleven years and stocked and cleaned and whatever had to be done. I was doing that and not liking it that much, I was miserable. I decided to sell it and get on the Appalachian Trail. I reconnected with my aunt, who was living here. My aunt (and uncle) offered me space underneath her artist studio as a home base while I figured out what I wanted to do. So I sold everything, I sold my restaurants, got rid of my apartment and moved (to Warwick). I was 34 by this point.
So you were going to do the Appalachian Trail?
That was the thing I said to myself that sort of allowed me to get out - I realized I was in the restaurant business at that point because I was just scared to live my life. I fell into this business to help my family; I felt responsible to help my parents because they had collapsed financially, but eleven years later I was still there. I have a psychology degree. That wasn't going to work for me unless I went back to school; I never liked school all that much.
What school did you go to?
Muhlenburg College in Pennsylvania. I got my degree. I started to get into yoga. I had this epiphany that you shouldn't sacrifice happiness for security. I had this nice secure job but I was miserable. I was making money, I had a big network of friends, nice apartment I was set . . . yet totally totally miserable. I worked there for eleven years and I must have met a thousand people a week: I didn't meet one person I connected with in eleven years on Long Island. I felt I had more to do with my life than stand behind a counter so I moved up here (to Warwick) and cashed in a lot of frequent flyer miles that I had and I took a trip all over the world for six months.
Where did you go?
First I went to the West Coast, then Mexico, Japan for about a month. I had some family in Australia I had never met before. They were World War II refuges from Poland, but that's a whole other story. I came back and packed up and hiked the Appalachian Trail.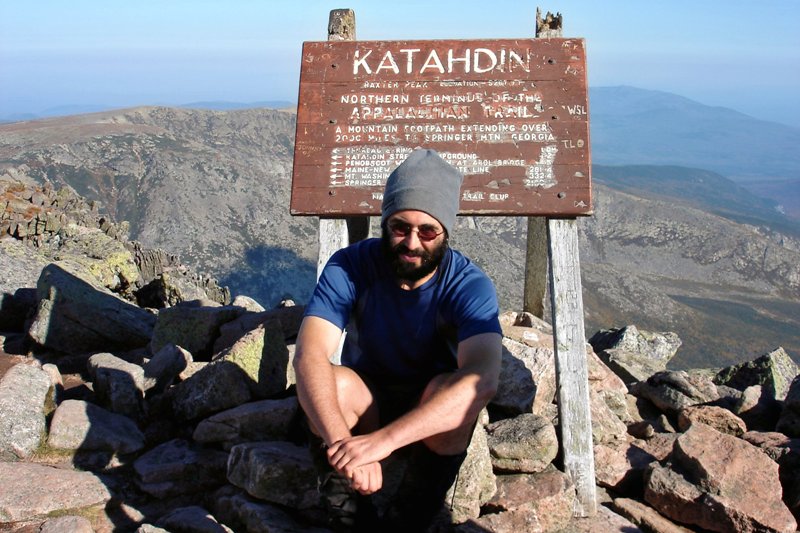 How much of the trail did you do?
I did the whole trail. I started in Georgia. I had never backpacked a day in my life!
That's great! Did you ever read Into the Woods by Bill Bryson?
That's what gave me the idea. I realized that my uncle from Warwick is a trail maintainer. He's in charge of a mile and a half of trail. Michael Needleman, (who's married to Laura Breitman). He became a good resource for me and I sent out an email to everyone I knew saying "look, I'm thinking of doing this, does anyone know anything about back packing or the AT, or maybe you know somebody." I get one response, it's a woman out in Grand Rapids who attempted the trail in like the year 2000 and she broke her foot and didn't finish. So we started emailing. talking on the phone, I drove out to Michigan to meet her. She was sort of like my consultant at first than after we met she said, 'alright, I'll do it with you." I drove my car to Maine and left it with a friend, my parents were living in Florida, I flew to Florida to see my parents; they drove me to Georgia, sixty miles north of Atlanta; that's where the trail starts. I met up with this woman Vicky, and we started the trail together on April 2nd 2005 . . .there was a flash blizzard . . . I had never backpacked a day in my life. I think I went through every piece of clothing I had the first day.
It's mentally brutal to do it (the Appalachian Trail) to wake up each morning and put wet clothes on, the heat, the bugs, the rain ….
Did you plan out where you would be each day, each week, each month?
To hike the trail there are immediate goals that keep you going and there are like bigger landmarks and there's the big prize, to go the whole way. When we got into this area (Warwick) Michael and Laura really schlepped us around and we were able to do a lot of hiking without our full packs. They would drop us off at Waywayanda Park and we would hike to the (Bellevale) Creamery and they would pick us up and we would sleep at their house. We did a lot of this area, what they call "slack packing," which means you're carrying lunch and water and you're going from trail access point to trail access point.
After Vicky left the trail prematurely did you connect with other people to hike with?
I did. There was one guy. We literally went almost the entire way together. He was a veteran of the first Iraq war, Desert storm. For both of us was like a cleansing, a reset button, you know? I had a lot of anger I worked out on the trail.
Would you ever do it again?
I would love to. I don't think my body could take it. There were people out there, the physical part was nothing for them: the mental part was really hard for them. For me it was a little bit of the opposite. My feet grew half a size from pounding them down.
What was the highlight?
New Hampshire and Maine. It's just so beautiful. There's a feeling you get when you wake up at six o'clock in the morning and you're ready and walking and everything you own is on your back.It took me six months after hiking the trail that I was comfortable again. You go from hiking fourteen miles a day and all of sudden, you stop. I'd walk into a crowded place and it would sort of freak me out, I became not used to being around a lot of people. (On the trail) you go to a stream and fill up a bladder bag, it has a hose coming out that feeds into a charcoal filter., and you suck the water out through the filter. So you come into town, sit down in a diner and someone brings you an ice water and you're like . . . ahhhh, drinking! I'm not sucking pond water. TV, it's like traveling around the world, sleeping in a bed, taking a shower, seeing women. It's like 90% men out there. Either twenty year-olds or sixty-five year-olds. Thirty-five year-olds are making their life; they're having kids, in a career. I was one of the very few people my age out there.
That's quite an accomplishment.
It was a long time before it started to come back to me in bits and pieces, what it had meant. My moment at Katahdin wasn't that moment; it was spread out over the next year or two years. It just felt really good that I did it. I was a different person coming out the other end but I thought I would have figured out what I was going to do with my life at that point. I had a good friend who quit his job as a newspaperman so I bought a good video camera, a computer, some video editing software. He was semi-pro disc golf player so I said let's drive across the country and we'll make a movie about it. So that was over. I still didn't know what to do I was still in my aunt's basement. I was living off the money from selling off my share of the restaurant.
At that point I hooked up with a landscaper. I found an apartment over Akins and I met Lisa that week. (I'm) living in a little village, you can walk to a bookstore, walk to the bar. I'm not anymore, but I was painfully, painfully shy my whole life.
How did you meet Lisa?
My aunt and her mom were trying to fix us up for a year. Lisa was teaching internationally for the last ten years. Separately we both told our aunt and her mom to cut the s***; stop trying to fix us up: we're not interested. Out of the blue my aunt said "I know you told me to butt out, but Lisa is in Warwick for the summer, here's her email address." I looked at her address and it had a 27 in it and my email address has a 27 in it, I emailed her and asked her what's with the 27? She said it was her birthday . . . I said, I'm June 27th. She said her ex-boyfriend was June 27th and had the same name as me in Arabic.
After exchanging several emails, we went hiking. I'm not saying it was love at first site, but it was marriage at first site. After dating each other several times we made plans and I saw her walking down the other side of Main Street, she didn't see me. Seeing her from a distance for the first time, I got her. I'm big on body language and when I saw her walking down the street I said, I really like that, that's my girl there. A year later we bought a house together, a year later we were married, a year later we were pregnant and Nina came.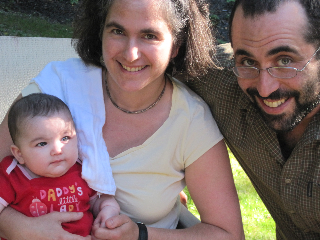 What are you currently doing?
Whatever opportunity comes my way I'm going to take it. Whatever it is I can experience, what I can learn, whatever comes into my path, I'll do it.
That's a great approach to life
It's all positive. Lisa gave me a lot of confidence. She's very supportive.
What's Lisa doing?
A position opened up at Warwick High School and she hooked up with it and It was a good market to buy a house. We live in a great neighborhood off Galloway Road.
How has parenthood changed you?
There's no way to really describe it. In a sense it gives you a lot of energy. I didn't want to lose my temper anymore I wouldn't want my kid to see me look like a jackass. You have this special purpose now, you know, to live a good life for your kid: but at the same time in another way your life is not your own, like the flip side of it. It's difficult but I love it. The Mommies that I know, they can be a mother but they can do other things, whatever it is: let me straighten up the house, send some emails, make phone calls, they can do that but they can also be monitoring their kid. And the Dad's I know, most of them, including me, I can't do it. When I'm with my daughter I'm just sucked into that, I can't do anything else; I can't multi-task. Whatever she wants to do . . . we're doing! I love it but it's exhausting.
How do you balance work and parenthood?
I don't know if my job at Lowland Farms will ever fall into a groove; it has a lot of variety to it. Something always happens that you're not planning for.
I understand you were instrumental in handling Warwick's very first "Cattle Run"
I'd say I was instrumental physically. I don't think anyone really thought it was possible except Will (Brown) and I have a pretty high level of faith in Will, that's the only reason I thought it could be pulled off. I'm still learning about cows. They have their own separate traits and behavior patterns if you want to manage them correctly you have to pay attention to those things and taking them up onto a road was sort of terrifying to me because they have gotten out on me a few times and it's incredible, they're huge. To have an animal that weighs a thousand pounds defy you there's nothing you can do about it, but you're in charge of them. It's tricky . . . you have to outsmart them. When I worked with Ikuo putting in windows and making sure that they are water tight but all of a sudden there's a leak somewhere you try to find it, you can't find where the leak is coming from. You were so careful, yet here comes the water into the house and where did it come from. It's a force of nature. That's what they're like.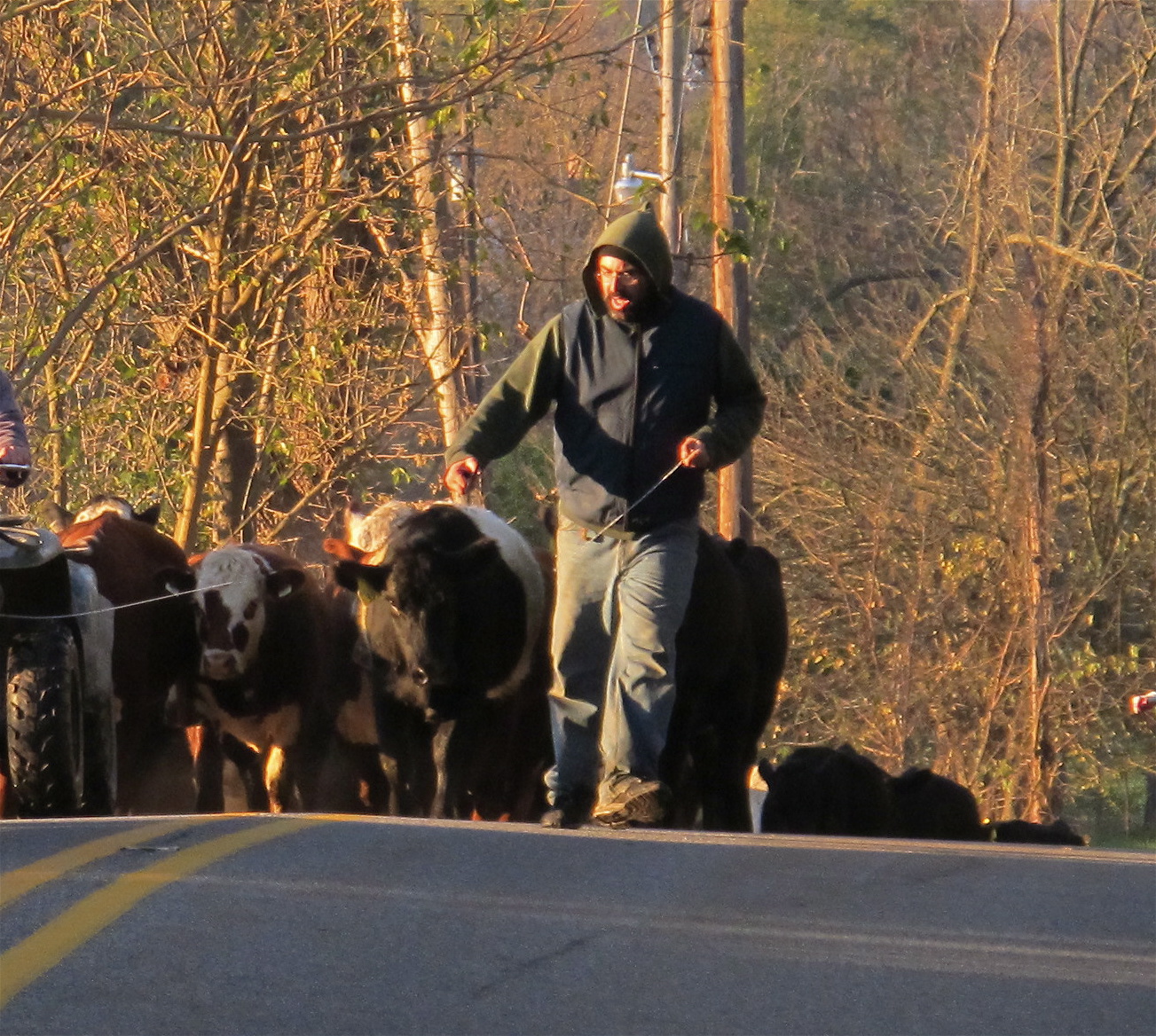 Tell me about the cattle run
There were about 130. We took them from Lowland Farm to Meadowburn Farm. We took them back country as far as we could then it was Will's call to use the road. There were other options but this was the most direct. They had never been on a paved surface before. When they got up to it they just froze and they started yelling, belly aching and mooing and it is really hard to stay calm as a person in charge of them with all that mooing directed at you. If you have thousands of pounds of animals telling you "we're not happy right now" it's a really odd feeling but I got them moving. They know me at this point I just basically dove in with them and started yelling at them and clapping my hands and they started going and we all just basically jogged two or so miles down the road, no one got hurt, that's the most important part.
At any time during the run did you say to yourself "what have I gotten myself into?"
I kind of enjoyed it I like being in charge somewhat. When we were planning it I wasn't supposed to be in charge I was supposed to be sitting out front on an ATV putting down the road and they were supposed to come behind me but that's not how it worked. I got stuck behind them, couldn't get my bike through, they weren't going through; I had to get off my bike and I had to dive in with them to get them moving and I really felt I had to run along with them because it became clear to me there was no one else in charge! I didn't know if Will was going to run three miles, he's pretty unflappable.
So with all the planning it still took on a life all it's own
Exactly. They got into one persons property, it was the Kadishes, they got in there, they realized there was nothing there for them and they came back out and that was the only hitch really. The cows didn't do any damage. Everyone did what they had to do.
How did you feel that night?
I was exhausted, I was hoarse, I had yelled a lot.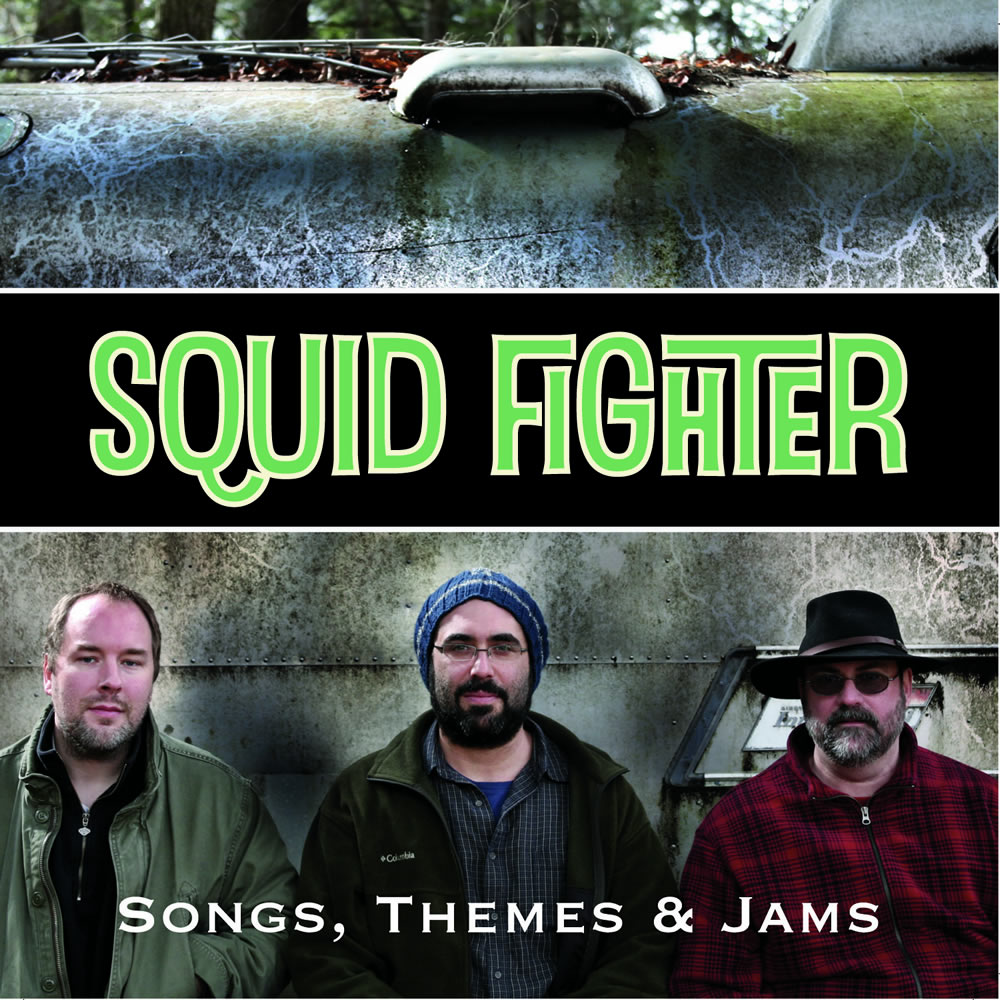 I've seen you perform in Squid Fighter, you play the keyboard. I really like your band, you do great harmonies and have a Beatle-esque quality. Is the band still together?
The band is not still together. When the band broke up there was a lot of disappointment mostly because we had a lot of material, a lot of good songs that no one ever heard. The guitarist and myself did all the songwriting and arranging. It's a little sad that all these songs . . it's like they never existed. On the other end of it, it was a big commitment and when it ended, now the creative sky is the limit. (I) can go back to painting, writing . . . the channels are open to wherever they're going to go. I had a real fear of performing in front of people and now that's gone. I taught myself the keyboard

What do you listen to?
(Laughter) I listen to our album a little bit! I'm starting to get into classical and opera. I've been a student of pop musical for a long time -The Beatles, The Grateful Dead, Bob Dylan, Neil Young, various jazz artists, Joni Mitchell. I'm fascinated with performance dynamic, that chemistry alchemy, energy transferred between the artist and the person observing.
What do like most about Warwick?
I like being near the Appalachian Trail, I like being in sort of an agricultural community, I like the diversity. When I moved up here it became clear that my aunt and uncle had a community and I had never seen that before growing up on Long Island. It's people of your (the interviewer) generation, they're all really cool, I like what they do, they're community minded, they care about the environment, they're not boring. I sort of wished secretly that there can be a new generation of those people and I can be a part of it. That's part of the hope that will keep me here. It's hard now because a lot of people my age can't afford to live here. I got extraordinarily lucky on a lot of fronts and I can afford to live here.
Is there anything about Warwick that can be improved to be a better place?
Some kind of food market in the village would be spectacular. We love walking to the farmer's market. You can walk in and get fresh food and walk back to our house.
Without leaving a carbon footprint
If I could get food in the village, I would walk in there twice a week, get my exercise. I wouldn't mind a little art house movie theater. I think those would bring people into Warwick. Village life is important; it's disappearing, you can't find it anywhere . . . we have it. There was a lot of clarification with PDR and let's protect the land around the village. Now I think we need to figure out how do we keep our downtown because if that goes away, there is nothing left here.