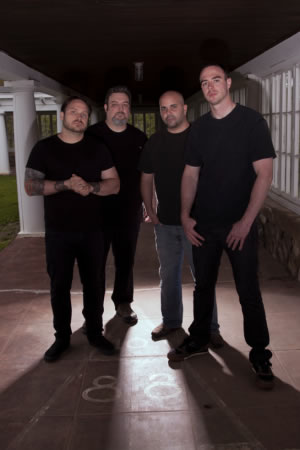 Davenport Cabinet, a rock band with alternative, folk, and progressive flavors, released their 3rd full-length album on Tuesday, September 30th via Equal Vision Records. The album, "Damned Renegades" follows their 2013 EP, "Risks In Magic." The band is the brainchild of Travis Stever, guitarist for well-known group, Coheed and Cambria. Stever's wife is the proprietor of Eat Sweet Bake Shop on Railroad Avenue in Warwick, NY.
Recently premiering in streaming format on Guitar World Magazine's website (http://www.guitarworld.com/davenport-cabinet-premiere-new-album-damned-renegades-exclusive), digital copies of "Damned Renegades" are available for purchase on several popular internet-based download services, such as iTunes. Additionally, merch bundles (including vinyl, CD, t-shirt, and hoodie combos) are available here: http://merchnow.com/catalogs/davenport-cabinet. Vinyl copies can also be purchased during Coheed and Cambria's current shows. The band is rounded out by Tyler Klose (Vocals/Guitar), Tom Farkas (Bass Guitar), and Warwick resident, Michael Hickey (Drums/Percussion/Vocals). In addition to performing with Davenport Cabinet, you can catch Hickey playing drums with the E'lissa Jones Band and Sho Nuff, and also singing and playing guitar in Hudson Valley favorite, acoustic duo, Hidden Rivers (with Christy Karas).
Davenport Cabinet has played shows in Richmond, VA, Washington DC, Philadelphia, PA , and Albany, Kingston, Manhattan, NY (at the Bowery Ballroom), as well as locally, at the Tuscan Cafe and Pennings Apple Grader Pub (for the Warwick Summer Arts Festival). Upcoming shows include the Tuscan Cafe in Warwick, NY on Nov. 26 and The Historic Blairstown Theatre in Blairstown, NJ on Nov. 29. For more information, please visit the following websites: http://davenportcabinet.com and https://www.facebook.com/davenportcabinet, and follow the band on twitter @DavCabOfficial.