Warwick, NY - Open weekends in November from noon to 4pm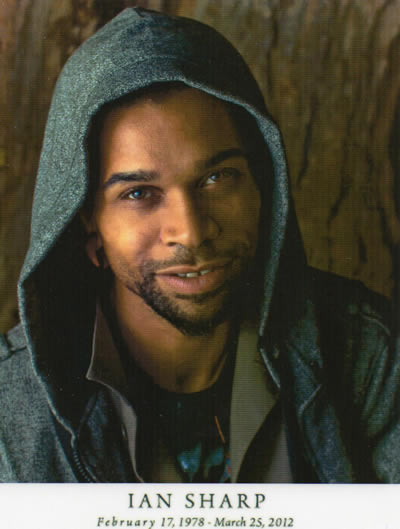 Ian Sharp (2/17/78 – 3/25/2012) was a local artist, musician, poet and skateboarder. His work and the works of some of the many friends he greatly influenced will be exhibited at The Amity Gallery for five consecutive November weekends beginning 11/1/14 from noon until 4pm. Opening reception will be Saturday, 11/8/14 from 5:30 pm. until 8:30 pm. Amity Gallery is located at 110 Newport Bridge Road, Warwick.
Ian Sharp's work exemplified his unique sense of freedom, play, meaning and purpose as well as his connection with his community. Mediums and vehicles for his pieces varied, serving not only as reflection and interpretation of the world around him but also the practical applications of art. Paintings on canvas or found wood, icons on t-shirts and skateboards, Ian believed the experience of art was not to be limited, but to be felt, worn and shared. His work is playful as well as thoughtful, meaningful and provocative as well as joyful. He spoke of art as personal empowerment, in his own words:
"Art and music have always helped me get through difficult times in my life. I believe that discovering your personal artistic style can be an empowering experience, as I have learned firsthand discovering my own style. Working with diverse groups of people helped me realize that everyone has a gift in art – whether it's drawing, painting, sculpture, dance, martial arts, or singing. Many people, especially youth, just need someone to help them discover their gift. Putting your art out there can make one feel vulnerable, but with the right guidance, you can take that vulnerability and use it to empower yourself." - Ian Sharp
Ian's family and friends come together in this exhibit to share gratitude and love for Ian and how much he inspired those around him to keep creating and to keep interpreting, translating these impressions through the vehicle of the arts.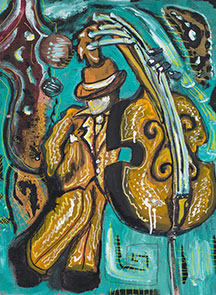 This is the fourth show of the new Amity Gallery, which is sponsored by the The Chardavogne Group. The Group, called the Institute for Religious Development, has been in the area since the late 1960's. It follows the teachings of Willem Nyland, who was a student of G. I. Gurdjieff. Open meetings are held periodically when the public is invited to learn more about the teachings and practices.
To reach The Amity Gallery from County Rte. 1 – take Amity Rd. and bear right onto Newport Bridge Rd. Gallery is just ahead on the right.
For more information contact Donna Kaminski at Project Knomad here: This email address is being protected from spambots. You need JavaScript enabled to view it.
To view some examples of Ian Sharp's work and impact -
https://www.flickr.com/photos/theartofis/