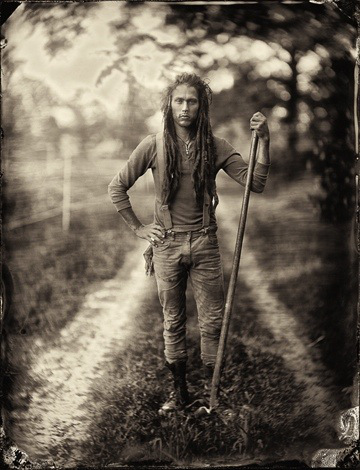 On January 10th thru February 2nd, bau Gallery presents Francesco Mastalia's ORGANIC, a photo documentary featuring over 100 farmers and chefs of the Hudson Valley.
This is the first exhibition of this new, large body of work by Mastalia. ORGANIC spotlights the Hudson Valley as a region at the forefront of this movement. It features the dedicated farmers who are committed to growing and producing food using sustainable methods, and the chefs who echo their beliefs and pay homage to the food they produce.
The portraits of the farmers and chefs were photographed using the wet plate collodion process, a technique developed in the mid-19th century, when the art of photography was in its infancy. The amber toned images remind us of a time when the cultivation of land was a manual process that linked the farmer directly to the soil. To date, Mastalia has logged in more than 17,000 driving miles within the Hudson Valley on his photographic Odyssey and has photographed 136 of our regions important farmers and chefs. Bau will feature 36 of these magnificent works from the ORGANIC series.
The Hudson Valley has become an epicenter for the local organic sustainable food movement. With its rich agricultural land, the awareness for sustainable living, and the growing demand for local, organic food, the farm-to-table, the 'locavore' movement has become a way of life in the Hudson Valley.
"Organic" is one of the most misunderstood and often misused words describing food today. In narrating their stories, the farmers and chefs share their philosophy about what it means to grow and live organically and sustainably. "Organic" is not just about growing and producing food, it is about the life of the planet. It is about preserving an agricultural tradition that will safeguard farmland for future generations.
Francesco Mastalia has traveled the world photographing tribal, religious, spiritual, and indigenous people. His book DREADS published by Workman Artisan is a photo documentary on the history of dreadlocks. With travels to Ethiopia, Kenya, Angola, Namibia, Senegal, India, Japan, New Zealand, Jamaica and throughout the United States. DREADS is now in its eighth printing, sold worldwide in four languages, and includes an introduction by Pulitzer Prize winning author Alice Walker. Mastalia's book, ORGANIC, is slated for release by powerHouse publishing in the FALL of 2014.
bau Gallery
506 Main Street
Beacon, NY
January 10th through February 2nd
Opening Reception January 11th 6-9 p.m.