Arts & Entertainment
Details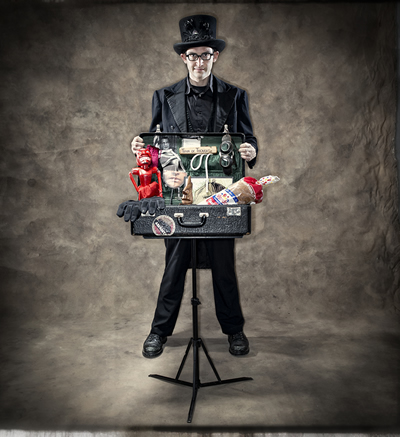 A three day celebration of wonder, magic, play and creativity
March 14 - 16, 2014
Purchase Tickets here!
Friday, Mar 14, 2014 @ 8:00PM
Saturday, Mar 15, 2014 @ 7:00PM
Magic Outside The Box Cabaret Show: David's full-length Cabaret Show proudly offers a journey to someplace else. Featuring highlights from all of David's previous productions, this full-length interactive magic show will take you on a hilarious ride into the depths of the human imagination. This is a show filled with laughs, mystery, and the unexpected! Recommended for older youth and adults. Tickets for this event are $20 General Admission, $30 for VIP First Two Row Seating, and $15 for Students, Artists, Seniors and Wizards!
Saturday, Mar 15, 2014 @ 2:00PM
The Adventure to the Imagi Nation Family Show: The Adventure to the Imagi Nation utilizes magic, storytelling, and interactive play to take children of all ages on a journey to the Imagi Nation– a far away place found within each one of us. Meet the mayor, Take a ride in a hot air balloon, behold the phantasmata flower, and that's just the first 10 minutes! Recommended for ages 5-11. Fun for all! This event is being presented FREE TO THE PUBLIC. There are a limited number of reserved seats available. Limit 4 per family. A small number of walk-up tickets will be available at the theater 30 minutes prior to the show.

Sunday, Mar 16, 2014 @ 1:00PM
Magic & Surrealism Workshop: In David's mind, Magic and Magic Tricks, are two very different things. This workshop will explore both. Through a crash course in illusion, we will examine how we interact with reality. We will also discuss the intersection of magic and surrealism as well as play several surrealist games. You will go home with many more questions than you came in with, as well as several tricks and surrealist games to amuse, amaze and engage your friends and family. Recommended for ages 13+. Tickets for the workshop are $25.
About David London: David discovered that he was a magician at the age of seven, and has since spent over 20 years trying to figure out just what that means. He has created four original theatrical magic productions, including Cerebral Sorcery, …Art of Dreams, and (insert title here) and authored eight manuscripts related to magic and illusion, including Daydreams, Borderland State, and Imagining the Imagination. He regularly performs his unique style of magic at theaters, museums, galleries, festivals, and private events, and has presented his shows, workshops and lectures throughout the United States.
For more information, call
845-469-9459 or contact David London directly at This email address is being protected from spambots. You need JavaScript enabled to view it..
Details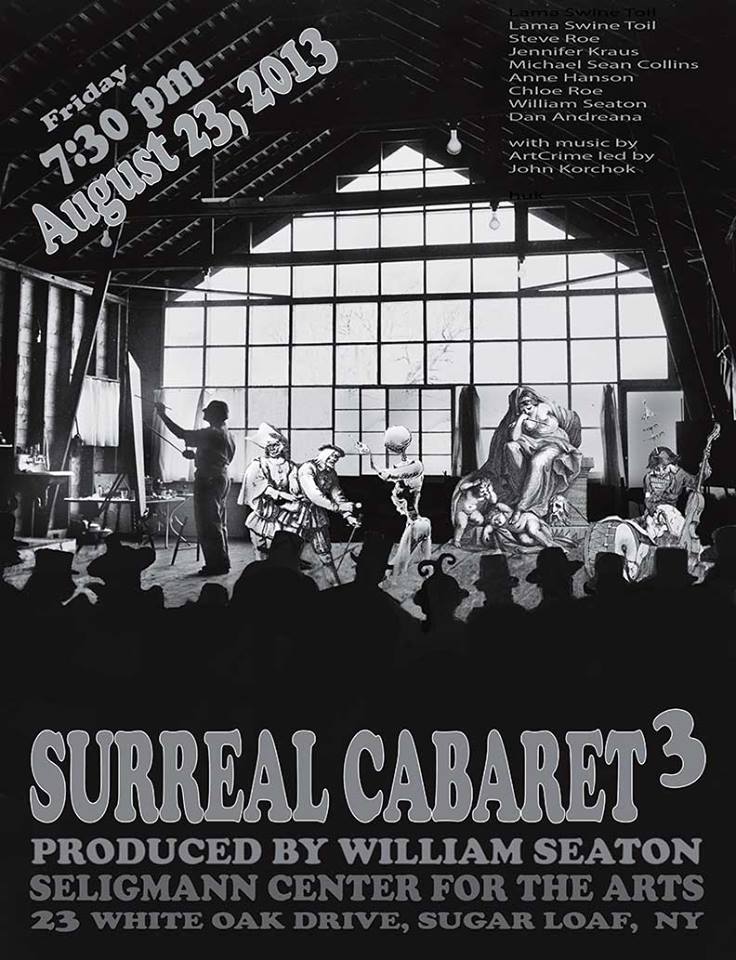 The third Surreal Cabaret will be presented at 7:30 p.m. on Friday, August 23 at the Seligmann Studio, 23 White Oak Drive in Sugar Loaf. Admission is free. The event will feature a series of short performances by local artists.
Acts may cross genres, mixing poetry, drama, dance, and music, while featuring conceptual play, experimentation, and improvisation. As food and drink are barred from the space during the remarkable New York Collection for Stockholm show currently hanging, audience members will be able only to mime sipping absinthe.
The program will open with a benediction from Surrealist chaplain Lama Swine Toil. Producers of the performances to follow are Dan Adreana, Michael Sean Collins, Anne Hanson, Jennifer Kraus, Chloe Roe, Steve Roe, and William Seaton. Musical interludes and a longer selection will be provided by John Korchok' and of his group ArtCrime ensemble.
The event is part of an ongoing series of exhibits, readings, lectures, and workshops presented by the Seligmann Center for the Arts. Kurt Seligmann was a Surrealist artist who lived in Sugar Loaf, and the Center offers a rare Hudson Valley venue for avant-garde painters, writers, and performers.
For further information contact William Seaton at This email address is being protected from spambots. You need JavaScript enabled to view it. or (845) 294-8085. See www.kurtseligmann.org for details on other programs.
Details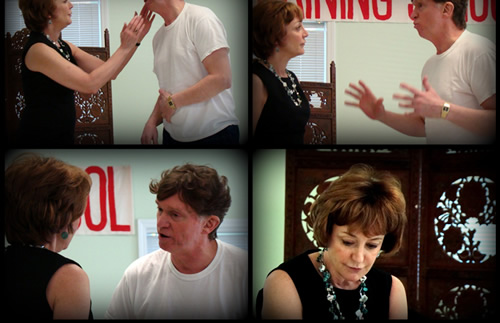 Friday evening, and you're eager to leave the weekly 9 to 5 grind behind until Monday. If you've ever contemplated acting or have stepped across the stage in your lifetime, why not lose yourself in a character at the MCC Actor Training School? For over two years, I myself have numbered among the members of this class and had a wonderful time doing so. Donna Haley is our ever-enthusiastic director/mentor and gives us the benefit of her years of being an acting teacher as well as an actress in her own right. There is a wonderful sense of community and friendship among cast mates/classmates, no matter what role you are given, or how zany the character might be, they are supportive and encouraging when you need it most.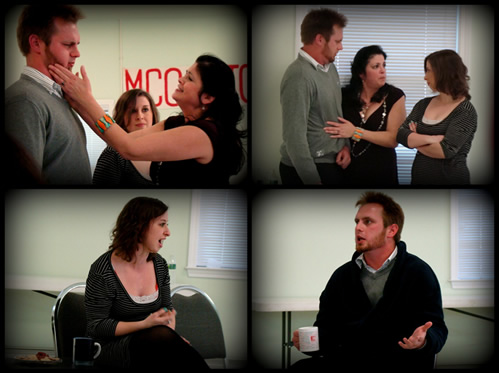 As depicted in the photos, the class recently performed scenes by Christopher Durang and Neil Simon. The scenes were hysterically acted doing both playwrights justice. Once you've experience the camaraderie of the class and the creative challenges of acting, one semester may not suffice as I have discovered. Being part of this talented group of people is like a fun gathering of friends as well as a strong training ground in acting. Overall, the class is more of a 8 − 12 week workshop than a full-out play. The focus lies on trimmed-down excerpts from larger bodies of work. From "A Streetcar Named Desire," to "Our Town" the class also has all the benefits of being in a play without the rigors of daily rehearsals.
Classes are held 7:30-9:30pm on Fridays. Ms. Haley also has a teen class that meets earlier on Friday afternoons, which focuses more on improvisation. For more information, including tuition fees and how the school was established go to www.mccactortrainingschool.com.