Arts & Entertainment
Details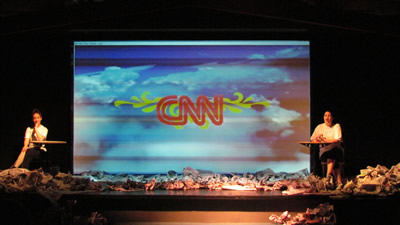 The Young Actors Program is continuing its Ensemble Workshop training program this spring at the Seligmann Center for the Arts at the Orange County Citizens Foundation in Sugar Loaf.
The ten-week workshop, designed for actors between the ages of 12 and up, begins on Thursday March 5 from 6pm until 8pm.
The Ensemble Workshops specializes in an approach to acting that aims for a unified effect achieved by all members of a cast working together on behalf of the play, rather than emphasizing individual performances. Participants develop and sharpen self-awareness, observation, creative imagination, and the articulate use of the body and voice. The Young Actors Program prides itself in offering a creative, open, and nurturing training experience so participants may develop technique and truth in acting. The spring workshop is for young actors who are seriously interested in developing skills and training at a professional level.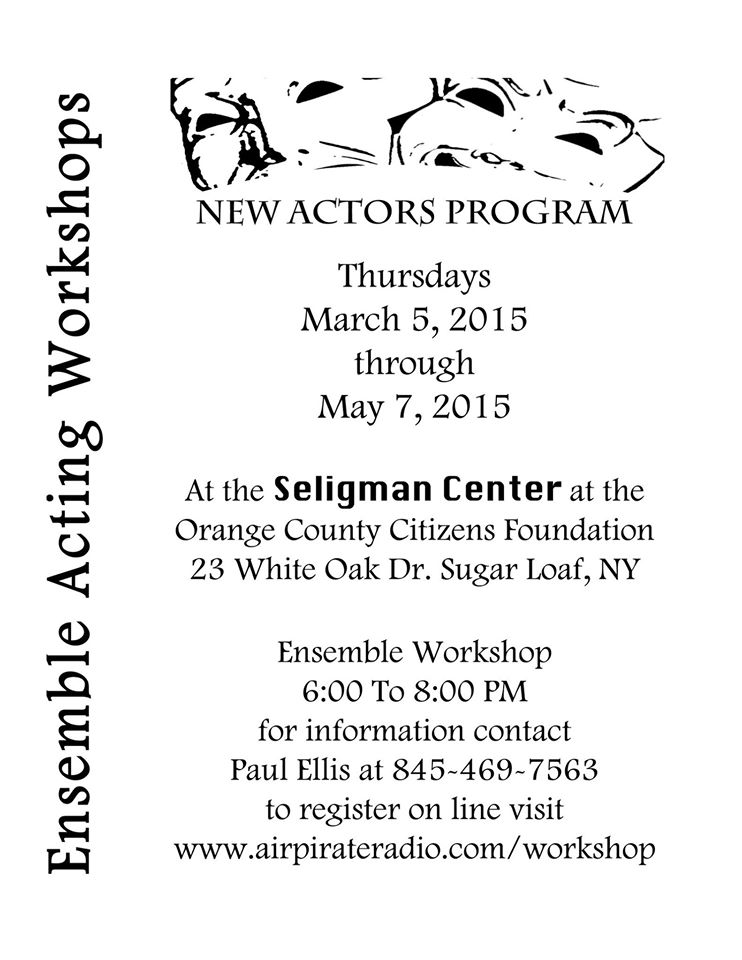 This group will begin with physical and vocal exercises, script analysis, rhythm, character development and the relationship between themselves and the role. Theworkshop is designed to expand concentration, observation skills, ability, and a deeper understanding of the relationships within the play and the ensemble as a whole. In the ensemble setting actors are able to engage themselves in the creative process as the group moves towards a sense of collectivity and community. This spring the workshop is preparing members for a summer production presently in development. Young actors workshops nurture creativity and enhances the young actors' ability to perform and work together as part of an ensemble.
Instructor Paul Ellis has forty-five years of experience in the theater business. He studied theater with Lee Strasberg, Peter Brook, Julian Beck and play writing with Jean Claude Van Ittallie. Ellis has directed over eighty plays and produced numerous concerts and festivals. He presently directs and produces the Air Pirates Radio Theater. His past students have been accepted to the finest acting conservatories including NYU, Purchase, Pace and the London Academy of Dramatic Arts. Many have appeared in major films and stage productions including American Idiot, Law and Order, Argo and Off Broadway and independent films.
The Young Actors Program begins March 5. The fee for the ten-week workshop is $250. To register, call 845-469-7563 or visit www.airpirateradio.com/pep/workshops/upcoming-workshops/ to register online.
Details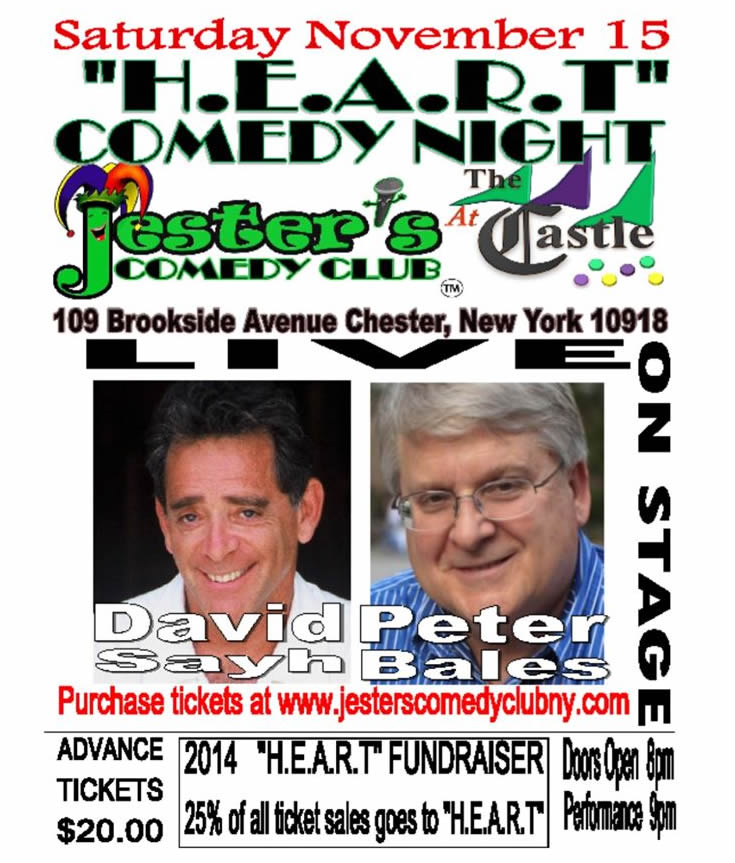 Jester's Comedy Club continues to entertain and draw large audiences by introducing top comic talent to Orange County, NY while working with citizens and organizations from the community to help promote topflight causes, both local and global.
Over the last few months, their comedy acts have been paired with fundraisers to raise money for local sports teams like the Tri-County Thunder Traveling Softball Team and Chester Football Team, to raise money for educational organizations like the Warwick Foundation for Excellence in Learning, whose mission is to foster and ensure that the arts remain strong in Warwick, as well as providing fundraising efforts for local PTA's and fire departments.
According to Walt Popailo, co-founder of Jester's, "We're open to any individual or group approaching us with a fundraising idea. It's a win-win situation as we give back to the community who are interested in doing benefits for worthy causes. While we provide top comedy, $5 of every ticket we sell goes towards the fundraiser."
This Saturday night you can expect the same - great entertainment coupled with a great cause, this time serving a global effort to build schools in Haiti. Called H.E.A.R.T and initiated by organizer Maria Blon, the fundraiser promises another large audience with comics David Sayh and Peter Bayles providing the comic relief.
"David is a comic that was on the Tonight Show with Johnny Carson," said Popailo, "and we're really lucky to have him. He just happens to live in upstate, NY, not too far from Jester's. Come on down and get your fill of laughs. We can help build a school in Haiti."
For more information on promoting a hassle-free fundraising event, contact Jester's Comedy Club at 845 - 345 - 1039 and get it added to their comedy line-up and calendar.
Details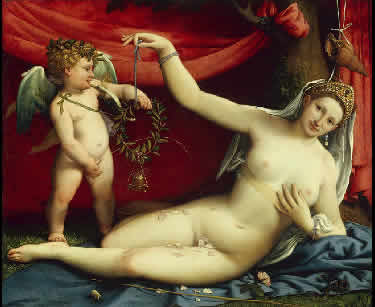 XOREGOS PERFORMING COMPANY PREMIERES EROS & PSYCHE 2014, a new comedy by writer and playwright Donna Spector, who lives in Warwick. The play premieres this August in nine venues, indoor and al fresco. Ten actor/dancers, fourteen scarves and one three-headed dog are in the production. Music is composed by James Barry, the fanciful costumes are by Regina Cate and Shela Xoregos directs and choreographs. The Denishawn dance SOARING (1920), by Ruth St. Denis and Doris Humphrey, and other new dances are part of the production. All performances are FREE, start on time and are 90 minutes long: Bring blanket, picnic for parks.
Family-friendly, but recommended for children over 8 as the language is sophisticated and may bore younger children.
Approximately 85 minutes long.
AUGUST 7-20, 2014:
Thursday 7 at 6:00 PM Central Park: lawn beyond Diana Ross Playground near 81 Street/CPW entrance "B" "C" to 81 Street
|
Saturday 9 at 2:30 PM Bronx Library Center Theater 
310 E. Kingsbridge Rd. the Bronx "B/D" to Fordham Road-walk
|
Sunday 10 at 6:00 PM Mt. Prospect Park Brooklyn: lawn between Museum & Library "2/3" to Eastern Parkway-up 4 steps 
|
Tuesday 12 at 5:30 PM Seward Park Library Courtyard Manhattan "F" to EAST Broadway ••• block walk 
|
Wednesday 13 af 8:00 PM midtown West by invitation only: 212-239-8405
|
Friday 15 at 6:00 PM Tompkins Square Park Manhattan
9 Street and Avenues A/B "N/R" to 8 Street walk or 8 bus East 
|
Saturday 16 at 2:30 PM Muhlenberg Library Manhattan
on 23rd Street at 7 Avenue 3 Floor (elevator) "1" to 23 Street
|
Sunday 17 at 2:00 PM Flushing Library Theater Queens 
"7" last stop, short walk to 41-17 Main Street 
|
Sunday, 17 at 5:45 PM Roosevelt Island Amphitheater
Tram/"F" to R. Isle, walk or 1 stop on free bus. Behind 520 Main 
|
Wednesday 20 at 6:00 PM Jefferson Market Library Manhattan On Sixth Avenue at 10 Street Any subway or "L" to 14 St./6 Ave.
|
Eros & Psyche is FREE, 90 minutes long, starts on time. 
Parks: bring blanket/picnic. Information: 212-239-8405
With: LAURIE AVANT ◊ CHRISTIANA REBECCA BLAIN ◊ ANDREW R. COOKSEY WILL COOPER ◊ SOPHIA REPPERT ◊ AMANDA RODHE ◊ KURT ROEDIGER    OKSANA TROFIMENKO ◊ BEN VAN BERKUM ◊ STEPHANIE WILLING