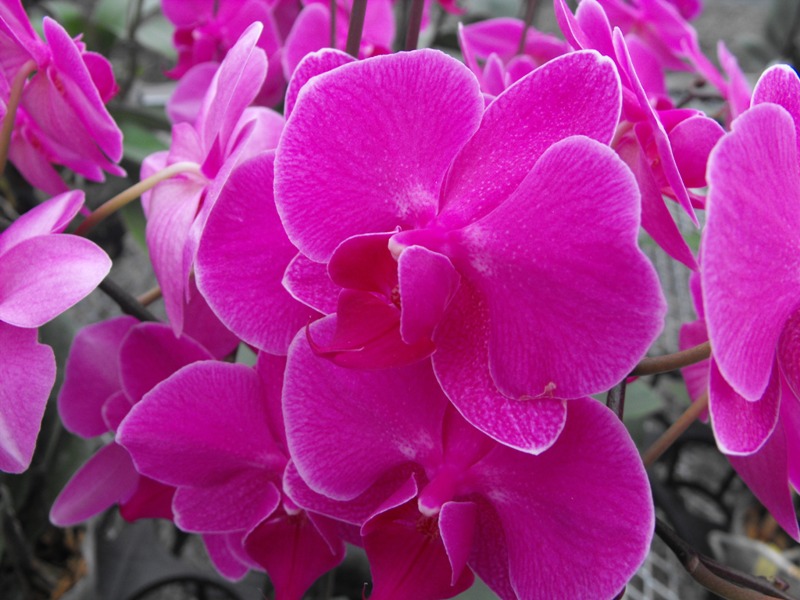 A three-hour free orchid "clinic" that will welcome ailing orchids and their owners and a drawing for a customized Black Meadow Flora Thanksgiving centerpiece are among the many highlights of this year's annual OrchidFest on October 26 and 27. The two-day event will be held from 10am to 4pm at Black Meadow Flora in Chester, New York.
Orchid lovers of all levels of experience are most cordially invited to bring a brown bag lunch and spend time with the greenhouse staff and fellow orchid enthusiasts. Beverages will be provided. "Let me know if you are new to the hobby," said owner and proprietor Margaret C. Bridge. "I'd like to answer your questions and personally wish you much success and happiness in growing orchids."
The Third Annual OrchidFest will feature free classes and demonstrations on the 26th, including Orchid Culture 101: An Overview of Orchids and Their Care (10:30am); Watering, Media and Fertilizers (11:30am); and an Orchid Repotting Demonstration (1pm). Advanced registration is strongly advised, as seating is limited. The drawing for a free Thanksgiving centerpiece will be held at 2pm on Saturday and other drawings for a free orchid will occur throughout the weekend. Each winner must be present at the time of the drawing.
Orchid owners are invited to bring their struggling orchids to the experts for diagnosis and treatment at a clinic scheduled for the 27th from 11am to 2pm. Staff will also be repotting orchids for $5 a plant.
As with all OrchidFests, there will be deep discounts on orchid plants and supplies, including medium, fertilizer, supports, orchid clips, and pots. The weekend will also be an excellent opportunity to place orders for holiday arrangements and gifts.
For more information or to register for one of Saturday's programs, call 845-469-5055. Learn more about Black Meadow Flora at blackmeadowflora.com. The greenhouses are conveniently located a few minutes off Route 17 at 256 Black Meadow Road, Chester, NY 10918.