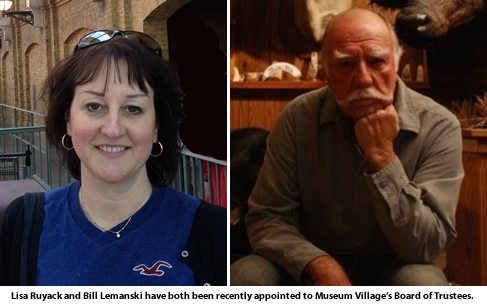 Monroe, NY – Lisa Ruyack and Bill Lemanski have both been recently appointed to Museum Village's Board of Trustees.
Lisa Ruyack has a background in education and is currently employed as a Library Media Specialist in the Pine Bush Central School District. She is an active community resident and is a member of the Orange County Land Trust and New York/New Jersey Trail Conference. Lisa also has years of experience in public relations and marketing and is a past President of the Women of the Monroe Area. An avid reader and history buff, she resides in Chester with her husband and three sons.
Bill Lemanski served two tours in the Vietnam War before beginning an engineering career in the nuclear power industry. Following early retirement from the nuclear field, he worked as a freelance writer for the Straus News Company, wrote as an associate editor for a medical periodical and published articles in various sporting and technical magazines. He also served on the Tuxedo Town Board for two terms and as police commissioner. Bill has published three books and besides volunteering at Museum Village as a consulting engineer, he is a member of a veteran's support group called Creative Warriors, a program of the Orange County Arts council.
Museum Village is a living history museum preserving a vast collection of eclectic, 19th century artifacts for educational purposes. Using these artifacts and reproductions, we provide hands-on experiences and exhibits illustrating the transition from a rural to an industrial culture and economy in America, provoking thought and discussion about history. www.museumvillage.org