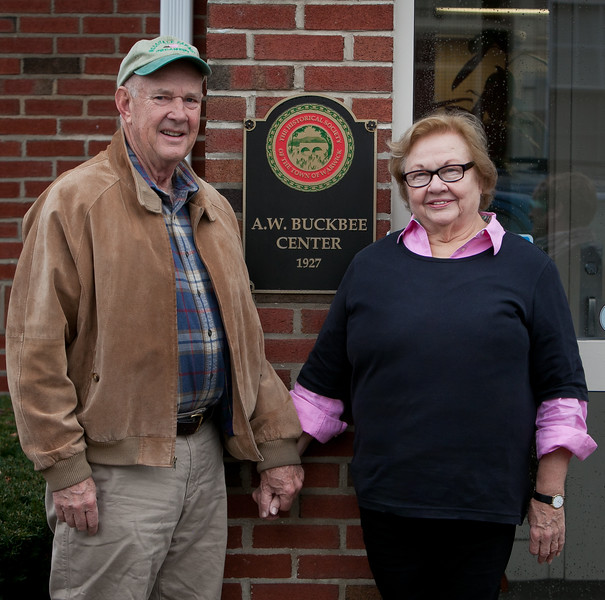 A drive through the Village of Warwick always reveals the good work of those people who live and work here. Time and time again, the Warwick Historical Society has personally benefitted from the benevolent spirit of one of Warwick's key families. Take a walking tour, drive down Main Street, or stop by the Buckbee Center to see the beautiful new permanent plaques on each of our buildings and properties.
Mr. and Mrs. Albert Buckbee recently donated the new plaques that clearly define the Society's logo, name of each building/property and date. Al and Judy Buckbee have always had a heart for the work of the Warwick Historical Society. Their interest and dedication led them to donate the present A. W. Buckbee Center, located at the corner of Main and Colonial Avenue, to the Society more than four years ago. Much has happened since then; the Society has used the facility for administration, archive collection, clothing collection, events and meetings. In addition, the Buckbee Center is a prime location for area community groups and events to take place. It is the hub of the organization in the heart of the Village.
The Buckbee's were asked to stop by the center so that the Society could personally thank them and mark the moment with a photo. They generously took time away from their 50
th
wedding anniversary celebration to do just that! As we know, history largely depends upon photographs to mark a momentous occasion and plaques to inform and inspire. The Society is privileged to have experienced both.
To contact the Town of Warwick Historical Society please call 845/986-3236 X101. The Society's buildings are available for events, memberships and sponsors are always welcome, and donations gratefully accepted.