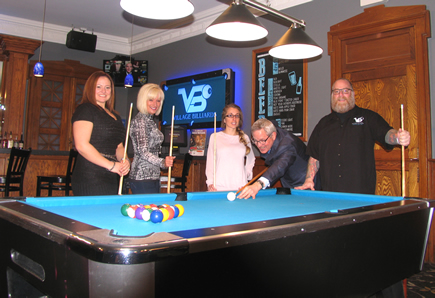 WARWICK – Step inside the Hudson Valley's premier entertainment venue with The Warwick Valley Chamber of Commerce for one of the most playful networking events of the season! On Thursday, February 18, Village Billiards at 17 Main Street in Warwick will be the site of an after-hours business mixer from 5:30 p.m-7:30 p.m.
Get ready to score some new business leads while shooting a game of pool, throwing some darts or playing a board game with area business professionals. Wind down from your workday in a fun and casual setting with hearty appetizers and a cocktail (cash bar available). Guests will be eligible to win a variety of raffles and prizes.
"I am looking forward to showcasing our upscale entertainment center," said Village Billiards Owner Adam Powers. "We provide a great atmosphere for all your gaming enjoyment."
At Village Billiards, you will find a high-end pool hall and bar providing fun, gaming and spirits all under one roof. They house seven pool tables, two dart boards, a host of game boards, and eight flat screen TVs including one with a ten foot projection screen.
Hosting American Pool Players Association (APA) League Play and In-House Tournaments, on-going weekly events and private parties, Village Billiards is open to the public seven days a week from 1 p.m. - 12 a.m. Sunday-Thursday and 1 p.m. - 1 a.m. Friday and Saturday.
Powers is also the executive chef/owner of Fetch Bar & Grill, Fizzy Lifting Soda Pop Candy Shop, The Ford Freezer, and United Cheese Steaks of America also located in Warwick.
Join Chamber members for this unique social event. General admission to the event is $20. For members of the chamber, the cost is only $10. For more information or to make a reservation, please call the Chamber at: 845-986-2720 or e-mail: This email address is being protected from spambots. You need JavaScript enabled to view it.
PHOTO CAPTION: Enjoying a round of pool together are (left to right) Warwick Valley Chamber of Commerce Event Co-chairs Kristen Weiss and Janine Dethmers, Village Billiards Manager Sarah Colley, Warwick Valley Chamber of Commerce Executive Director Michael Johndrow, and Village Billiards Owner Adam Powers. The after-hours business mixer is set for Thursday, February 18 from 5:30-7:30 p.m.