WARWICK - The Warwick Valley Chamber of Commerce is marking its 75th anniversary this year with a grand membership celebration themed 'Diamond Gala Rock of Ages' on Saturday, November 8, 2014 at Red Tail Lodge at Mountain Creek in Vernon, New Jersey.
The event promises to be a festive evening with a tribute to the past 75 years, as well a celebration of the present with cocktails, dinner, music and dancing.
Each year at the event, The Chamber also presents awards to four of its most outstanding members. This year's award recipients are Adam Powers, owner of three Warwick business establishments: Fetch, Village Billiards and Fizzy Lifting Soda Pop & Candy Shop for Entrepreneur of the Year; Thomas Roberts, owner of Ye Olde Warwick Book Shoppe in Warwick for Best Building Renovation; Janine Dethmers of Corporate Impressions for Volunteer of the Year and Sherry Bukovcan of Mary Kay Cosmetics for MVP (Most Valuable Person) of the Year.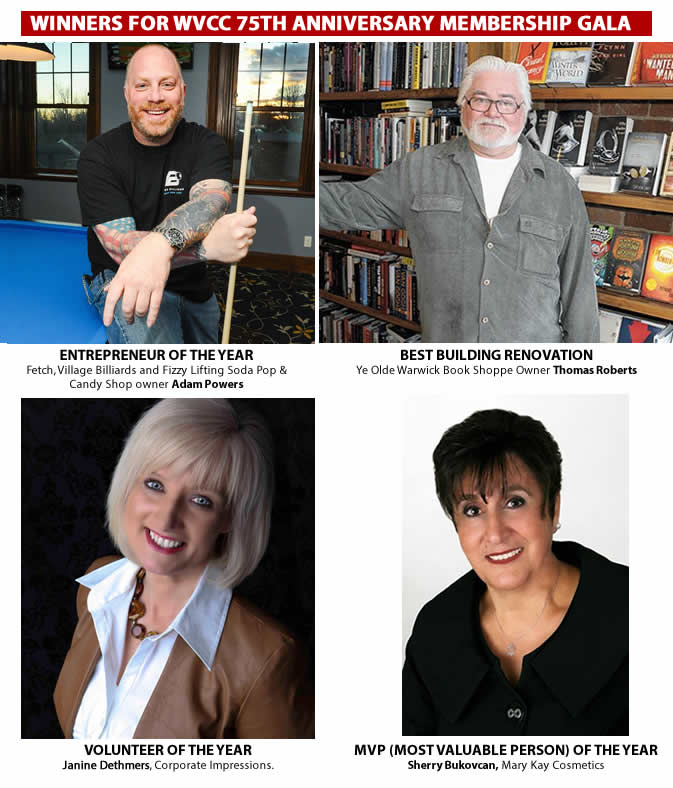 Also in honor of this milestone year, Diamond Tribute Awards will be presented to the five founding businesses that have consistently renewed their Chamber membership for 75 years. The honorees are Alteva, Parkin Supply - Plumbing and Heating, Seely & Durland Insurance, St. Anthony Community Hospital Bon Secours Health System, and Warwick Resource Group. Past presidents and board members will be recognized.
The gala is made possible in part by support from sponsors. Diamond, Platinum, Gold, Silver, and Bronze level sponsorships are available.
Tickets to the grand celebration are $110 per person. Spouses, guests and friends of the community are encouraged to share in this milestone celebration. Reservations are required and RSVP is requested on or before October 24th. For more information or to purchase tickets or become a sponsor, contact the Chamber office at 845-986-2720 or email: This email address is being protected from spambots. You need JavaScript enabled to view it..