Arts & Entertainment
Details
Artist Biography:
After teaching painting and drawing on the high school level, for ten years, Susan went back to school to continue her art studies at The New York Academy of Art in New York City. The Academy was one of the first schools in the U.S. to base its curriculum on the classical European tradition of drawing from plaster casts. Intensive drawing from the casts was her focus for 18 months before moving on to the Art Students League and The National Academy of Design, both in NYC. With advanced skills in drawing developed at the Academy Susan went on to life studies from the model at these schools to work with painters Harvey Dinnerstein and Ron Sher.
With her family's move out of New York City, to Warwick, NY, Susan developed an interest in painting the inspiring landscape of New York's Hudson Valley. The landscape that had once inspired the Hudson River School painter, Jasper Cropsey, when he lived in Warwick, now was her source of inspiration.
At this time Susan attended the Ridgewood Art Institute, in New Jersey, to work with master landscape painter, John Philip Osborne. She credits Mr. Osborne for developing her painter's eyes.
The Institute maintains a tradition of teaching that was passed down from generation to generation of painters. Mr. Osborne had studied with Arthur Maynard who had studied with Frank Vincent Dumond at the Art Students League in New York. When Dumond studied in Europe he was influenced by the Barbizon and Impressionist styles of painting. "In his frequent trips to the French countryside, Dumond was disciplined in painting the naturalistic landscape. Many Barbizon School landscape precepts-such as a sublime vision of the natural world, and an interest in the transient effects of light and shade to depict and dramatize it- have been handed down through generations of painters and continue to pervade art theory today."*
"Dumond students were taught to see the progression of prismatic light flowing from yellow to red to violet on the warm side; and from yellow to green to blue-green to violet on the cool side." A variation of Dumond's palette is still used by many students of this tradition. Susan works with this palette and continues this tradition that started in Europe and continues to thrive today.*
Susan is the director of The Warwick Atelier, a studio school, that is dedicated to teaching the drawing and painting principles of representational art. Among many other awards, Susan has won Best in Show in The Ridgewood Art Institute's annual exhibit for her landscape painting,"Westtown Morning".
Her work has been reviewed by Raymond Steiner in Art Times and American Artist Magazine, discussed her work in an article entitled "Painting in North Light." She exhibits her work in galleries in Santa Fe, Boston and Cape Cod.
She is member of The Copley Society of Art, The Pastel Society of America, the Hudson Valley Art Association, The Ridgewood Art Institute and The Warwick Art League.
*Ridgewood Art Institute Catalogue 2004
Details
In a hundred years, how will the world view your work? What will they see in that field you have rendered, the barn you have sketched, the poplar trees you have captured? And what will that tell them about their own world?

One Sunday in July, I spent half the day with the Wallkill River School Plein Air Painters, with the objective of looking at the creative process. My journey began with a camera, notepad and pen, tools that would help transform my ideas into something whole.
Painting at different locations throughout Orange County over the course of the summer, the painters converged at Keith Stewart's organic farm in Greenville, NY. Flavia Bacarella, Keith's wife and an artist, invited me to attend the workshop. I went with an open mind, not sure what to expect, nor what kind of outcome I would produce.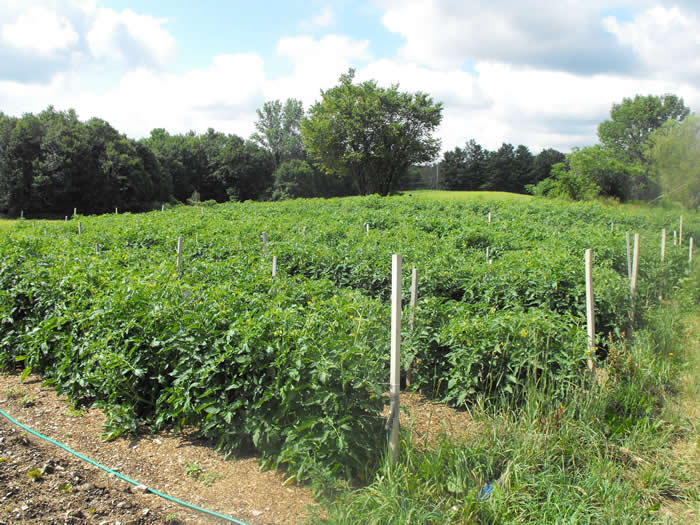 It had rained the previous day, so when I arrived to the farm, with over 100 varieties of fruits and vegetables, the land and its vegetation was perked up, looking lush and verdant. Many of the artists had already established a spot for themselves; there were easels and canvases propped up in every direction. I wrote in my notebook. There is something that attracts our eye to put us in our own very special spot.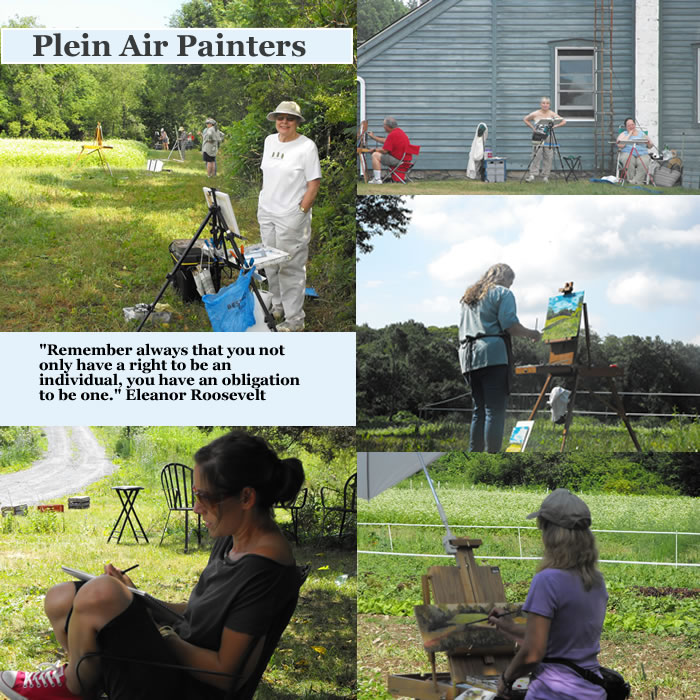 For the plein air painter, finding a spot is the starting point for creating. What is that something that attracts us to where we ultimately station ourselves? Is it a random, unconscious act or is it deliberated upon, our eye drawn to a theme or a point of interest or something that represents for us a novel interest in which we can add something new to our dimension of living?
One of my goals was to spend a little time with the artists and watch the development of their work. I added more notes in my book. Somehow we begin with our ideas and we take those ideas and nurture them. It's really a very simple process amidst a complex act that requires skill, experience and the desire to see it through.
My other intention for the day was to write a couple of poems, inspired by my own observation. I did not know when these poems would reveal themselves to me, but I had faith they would.
I further wrote in my journal: The field does not grow abundant fruit and vegetables without the guiding hand of someone to make it happen. To me, this is what it means to cultivate. It means to shape, to nurture, to help bring into existence an idea with potential and raise it into its fullest manifestation. Time is always a factor in the unfolding of events.
I somehow had to become present – to be still when I needed to be still and to move when I needed to move. What is that force that guides us? Is it something Taoist, when you are out in nature under these circumstances and you are moved like the stream is moved, like the wind that blows across your face from nowhere? Creation certainly must account for the ebb and flow of natural occurrences.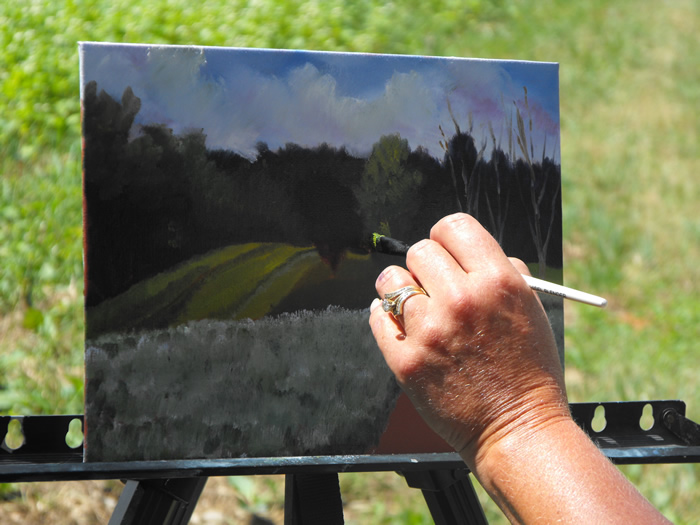 At first I observed a demonstration in technique, with the speaker discussing her plein air painting which was set on an easel facing the landscape she had been working on. I put my head down and listened while taking notes. What you might have heard would include advice on capturing the landscaped elements such as the far off hills, the clouds, the contours of a ridge, the horizon, rocks, etc. And some advice about taking liberties with your view. The instructor said, "Give it a thin layer now and then get the details later." She had been working on the painting earlier, so it was near completion. She gave us an example of adding some final details. How true it is that our creative acts allow for the addition of details. As you have layered and layered, those new details become layers for newer additions.
Then my first poem revealed itself. I was looking at a close-up of a field of buckwheat, mesmerized by the robust activity of bees, which were producing this murmuring din that was enchanting to listen to. I sat there for twenty minutes, looking intensively at my subject matter, as I knew I needed to capture details.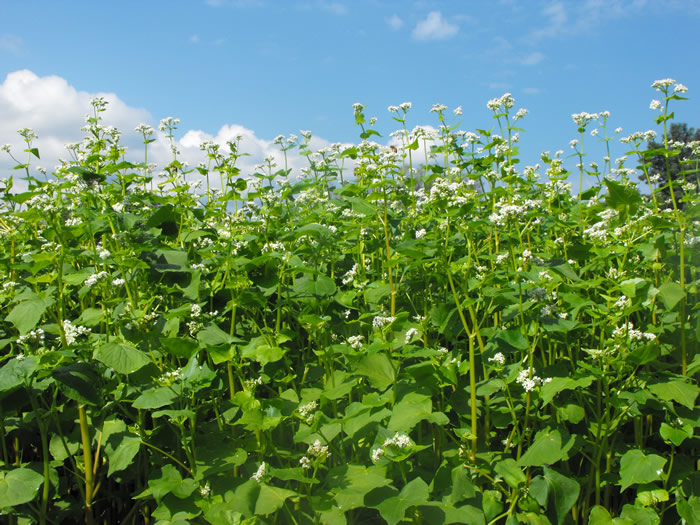 However, I did get stuck after twenty minutes. Later on, Lynwa, one of the artists, informed me that when she got stuck, she moved around and checked out what other artists were doing. "Take a break," she said and "look at other things." She was working on a watercolor, finding plein air painting a challenge because of how quickly her watercolors were drying.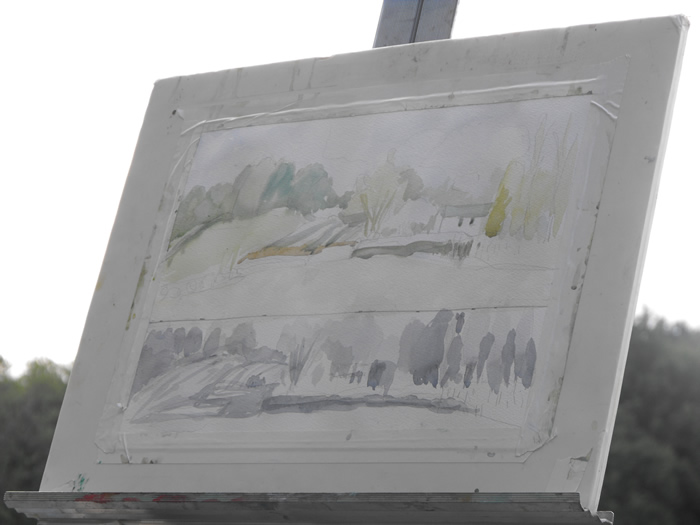 I did not like the discipline of imposing a time limit on my artistic act anyway. I knew that I was here for other reasons and that writing a poem was only part of my larger objective. I would have to get back to the poem later. Yet I knew one thing: I was committed to writing it. The seed was planted. The poem was ready to be written. It would just be a matter of time. First I needed to move around and get other perspectives. Ah, I was in the spirit of creating.
After the group instruction was over, the artists returned to their easels'. As I met with several of them, I realized that each artist arrives at an end point through their own means. For me, getting to the end, in part, is a matter of will – yet at its core, has a seed that's already been planted, one that sprouts and grows with each step, one that develops, one that matures, only when cultivated through some kind of process. That's what I call creativity.
The several plein air painters that I spoke to helped inform the creative process and inspired me along my own personal journey to have a meaningful experience en plein air, one in which I would become a creator myself. And as such, I realized I was the one responsible for shaping it into a meaningful event.
George Hayes, one of the first artists I spoke to, was working on a value sketch that provided him with an outline that would help guide him through his process. He told me he spends about ten to fifteen minutes working on it before he even begins to draw with his pastels.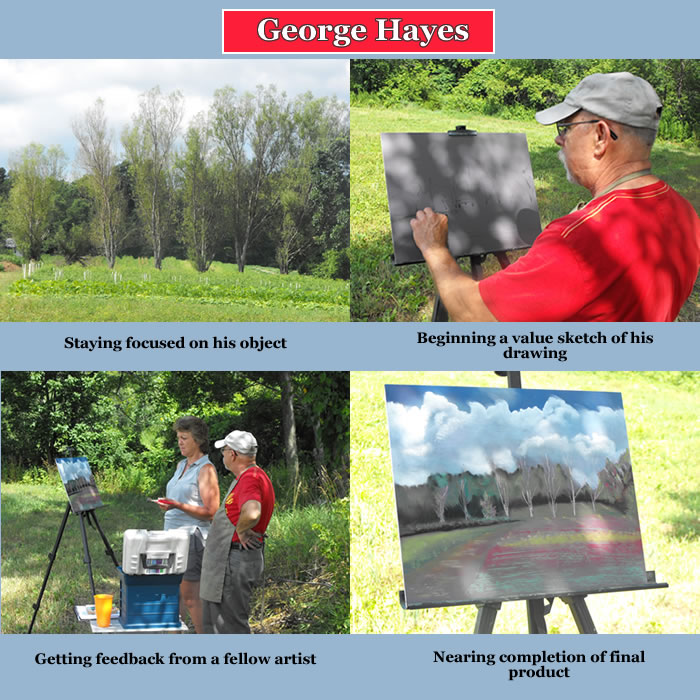 Daniel Grant, by contrast, who works in oils and learned to use a chromatic palette at the Ridgewood Art Institute, told me that he begins with one detail and works around it, adding the dark and light colors as he goes along, working without a plan per se, such as a value sketch. Yet he achieves the same result – a finished painting.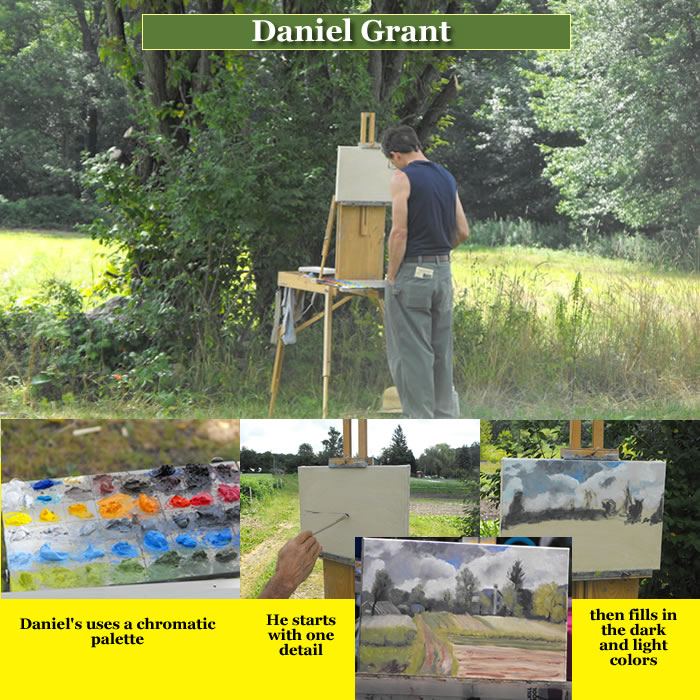 Gloria Detore–Mackie, who also works in pastels, was comfortable manipulating reality, counterintuitive to some who aim to capture exactly what is there. The question of when and how to fabricate reality is one of the keys to creating art.
My conversation with Gloria inspired my second poem, which drew on the sounds I experienced with her during the moments we spent together.
Sans the Sound
Chirping birds, motoring cars, whirring bees, rustling grass, stomping boot, shuffling
feet, thudding branch, and breath of air from chalky dust of pastels brushed with hand –
these are the sounds unfolding to my ear.
I wish I could record and playback what I hear
while you look at my finished landscape.
Through these reds, whites and olive greens
That forged the trees and clouds beyond,
sans the sound
somehow this painting seems incomplete.
Shawn Dell Joyce, founding member of the Wallkill River School, talked to me about her process of working with theme while seeing landscape as allegory.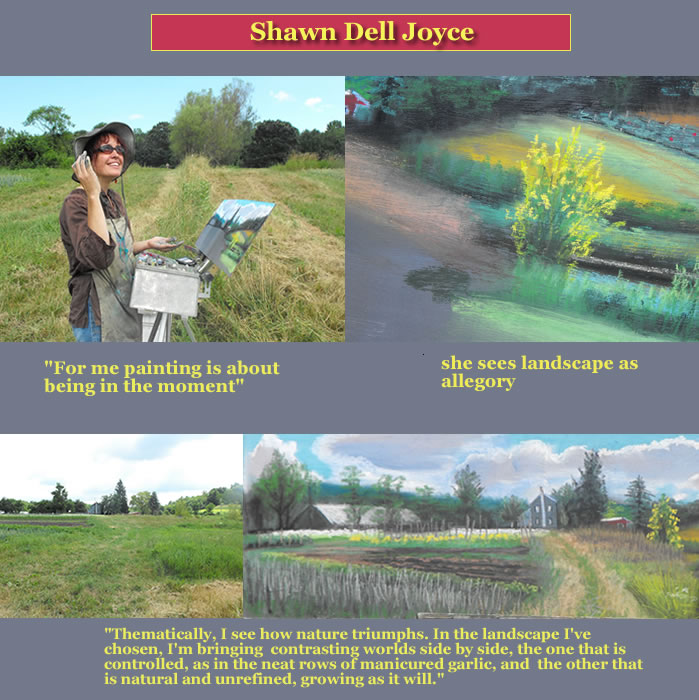 When I approached Pam Rice, she was just finishing up her painting. I did not say much to her, but merely admired how accurately she had rendered the shape of the barn in only two short hours.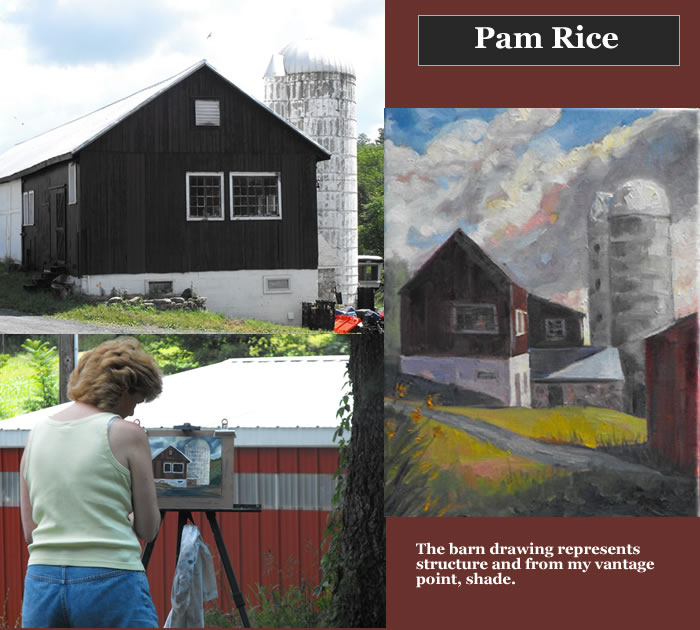 As the time was winding down, I visited Flavia to see how she was doing with her painting. I discovered she was working on an impressionistic rendering of the field of buckwheat, almost from the same view I was looking at the field - a close-up shot - and I got another bit of inspiration. She told me that art was a psychological battle for her and that the creative process involved some degree of suffering. Looking at my own process, especially my poem, "The Field of Buckwheat," I understood her creative struggle to come to resolution. It was so hard for me too.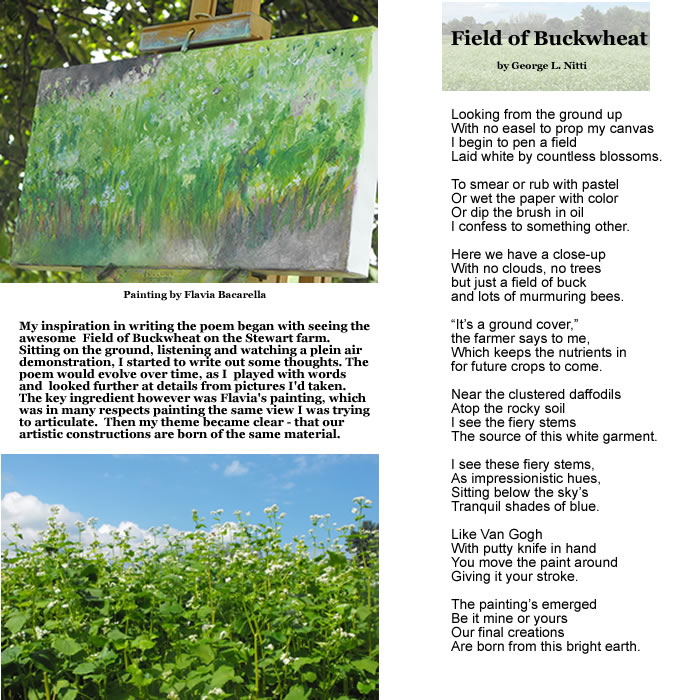 At the end of the two hours, all of the artists were brought together to share their work over lunch. It was interesting to see the diversity of art, in style, form and medium. Shooting more pictures, not really knowing how I was going to use my material, I trusted everything was going to come together.
It wasn't until I got home and sat with my project for several weeks before I attempted to make sense of my experience. The poem, however, was finished, as I was eager to get it done when I got home. But in truth, the poem was never really finished, because through each reading, I found something to change, add or delete. Everything I used – the poem, the pictures, the scrawled notes I had taken quoting various artists – everything that I had put down in my little notebook could become a valuable source for developing ideas.
Although I was invited by Shawn to partake in another week of Plein Air Painting and to take up painting myself, I knew I didn't have the time this month. My day out with the Plein Air Painters was more than just a half day event though. It was a multi-layered process in which I would continue to add more detail over time.
My end game was to write this story. But first I wanted to have a meaningful experience. It took me several weeks, and now that I look back over my creation, I feel I've accomplished that. The poems are finished and I'm more attuned to the creative process. It's a continual unfolding. And when I put down my pen, even then, the act of creation continues to pursue me to some new destination.
Details
"However far you may walk, every pilgrimage is a safari into your own dark interior, an inner journey. For pilgrimages belong to the inner world, to that realm called "the religious." Frederick Franck, Art as a Way: A Return to Spiritual Roots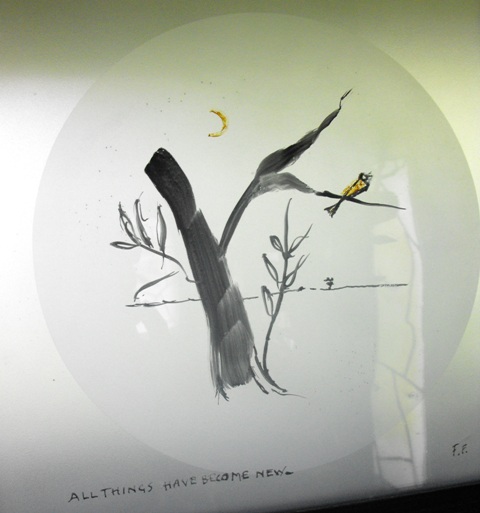 The life of Frederick Franck is well documented, but one that takes time to sift through, containing many layers, like any rich life. To unearth it, one must dig into the terrain of his world - carefully, slowly, persistently. His story, like any classic, never grows tired, as there is something new to discover upon each return.
On a midsummer's day, I begin my pilgrimage to Pacem in Terris, a place that Frederick Franck and his wife Claske transformed into one of Warwick's crown jewels. Located off of Covered Bridge Road in Warwick, NY, Pacem in Terris, meaning "Peace on Earth" was a home fit to be condemned when first settled by the Franck's. Frederick writes in Pacem in Terris: A Love Story: "Contractors we consulted immediately diagnosed it as a terminal case, only fit to be torn down at once..." But instead of tearing down, Frederick and Claske rebuilt, resurrecting Pacem from the rubble with the help of a dutch carpenter named Bert Willemse.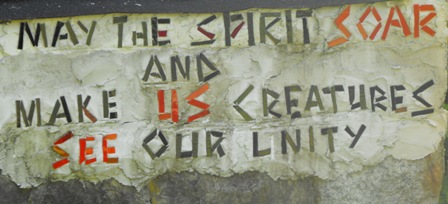 Over time, Pacem would become not only home to Frederick and Claske, but home to those seeking an oasis of peace, one in which Frederick imparted his vision based on a life's work, putting into play a well developed philosophy, melding his life as an artist with his years of service in medicine, his reverence for life, his association with notable individuals, and his beliefs toward universal peace and spiritual renewal.
As I walk the serene grounds, I take in sculpture and art pieces, enter a museum containing drawings and paintings, read from the Shoestring, the quarterly newsletter written by Frederick's son Lukas, and experience a Bach concerto with others from all walks of life. Today I am feeling as if I have begun to get in touch with that special part of myself, the core of what it is to be an artist, to be human, to be alive. I see Frederick's work, his clear vision, his understanding and empathy for fellow mankind, and I become emotional.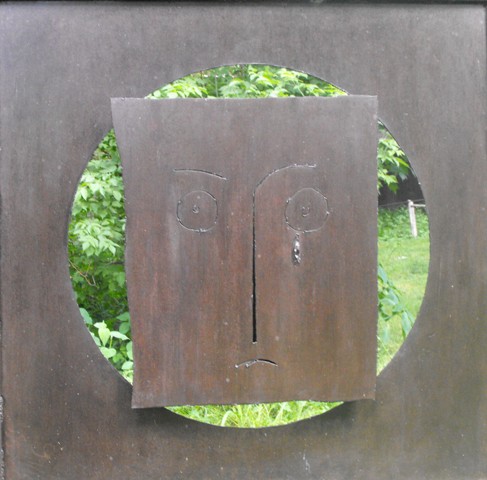 It is the perfect setting for such an undertaking, a meditative retreat where all inward journeys begin. Frederick writes, "When you go on a pilgrimage, you set out from where you happen to be and start walking toward a place of great sanctity in the hope of returning from it renewed, enriched and sanctified."
Like many who come to Pacem, I have the impulse to take pictures, but refrain, putting away my camera to pay attention to what's in front of me, like Frederick the artist who draws to get closer to the source of his object. In Art as a Way, Frederick writes, "I started to draw furiously as if it were a matter of life and death. For in that flash I had retrieved the original impulse that - long ago- made me start painting: to SEE, to really see this wondrous world before I die, to make it my own...."
---
In the middle of winter on a bright and clear January day I return to Pacem, this time to talk with Claske Franck, who is the pivotal force not only behind her husband's story, but in keeping his story alive. Yes, behind every great man must be a great woman. Claske is a rare host, often providing her warm presence when opening the doors to visitors during the summer months while working diligently year round to preserve the legacy of her husband's work and their mission together at Pacem.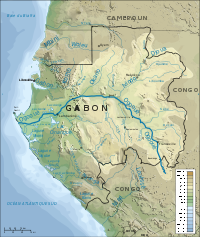 Claske talks and I listen. "We were married in 1958, on a ship enroute to West Africa." From a dental journal Claske gives to me, I read further into this story, one in which Frederick joined the great humanitarian Dr. Albert Schweitzer in an African hospital for 3 years, from 1958 – 1961. "I was with Frederick in Lambarene and was his dental assistant there, which mostly consisted in holding people's heads while Frederick was extracting and extracting."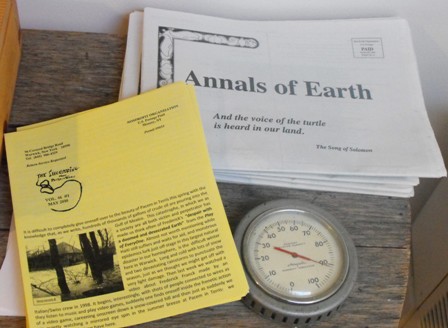 Handing me a couple of journal publications called Annals of the Earth, Claske invites me to peruse the pages. "Do you know this publication? You really should read it." I pick up one issue and inquire about the banner on the back cover. "If you don't know, that is the banner of human kind that blows over Pacem," she says.
She explains the five stripes symbolize the five subdivisions of the one human race – brown, black, red, white and yellow; that each stripe is double – male/female; that the banner shape is tubular, so that there is no first/no last; that a sixth stripe was added – the color Green representing the earth.

Later I read about important issues on sustainability and an essay by Thomas Berry, on the environmental task ahead of us, the renewal and revitalization of our planet. In these difficult times, when the environment is in peril, we are made to feel more sensitive towards our delicate ecosystem and the desecration of our planet. In the Shoestring, Lukas writes, "It is difficult to completely give oneself over to the beauty of Pacem in Terris this spring with the knowledge that, as we write, hundreds of thousands of gallons of crude oil are pouring into the Gulf of Mexico."
Claske invites me upstairs. "This is where I live," pointing to her surroundings, walls lined with Frederick's artwork. "Here are some pictures of Frederick." "This is The Dalai Lama, Pope John XXIII, DT Suzuki, Thomas Berry, Albert Schweitzer. And this is my desk where I work, there is my kitchen, and this is where I sleep," pointing to her bed, half covered in books.
I say very little as I take in the surroundings. Francis and Gloria, her two assistants, are present as well, busy helping out with the many tasks around the Franck residence. "Remember, you are welcome anytime. We are always here. If you need anything, don't hesitate to call or to come by. The river is beautiful in Winter," says Francis. "Come see it again."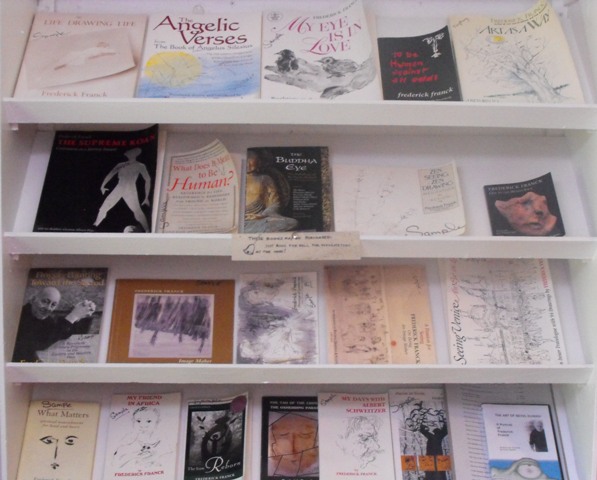 I get ready to depart but I know the journey is not over. I anticipate receiving my next issue of the Shoestring, reading and re-reading any one of Frederick's 35 books, and of course revisiting Pacem at any point in the year, knowing that it is there for the seeker to enlighten and to reflect on, to transform oneself towards that higher realm called the "religious."
---
Epilogue
I do come back again. I come back in many different states and moods. Sometimes I come back broken hearted, other times in need of peace and quiet, meditation or contemplation. Sometimes I come back like a tourist, with camera in hand. And sometimes like a friend who is visiting for the day. Sometimes I come back for a concert, sometimes the art, and sometimes just the river. But when I do come back, I always come back as a seeker, reminded that all things become new. I come back learning to see again, for that which is eternal never dies but is born again. Pacem is a reminder that the eternal continues to flow onward and upward.
---
For more information and directions, visit