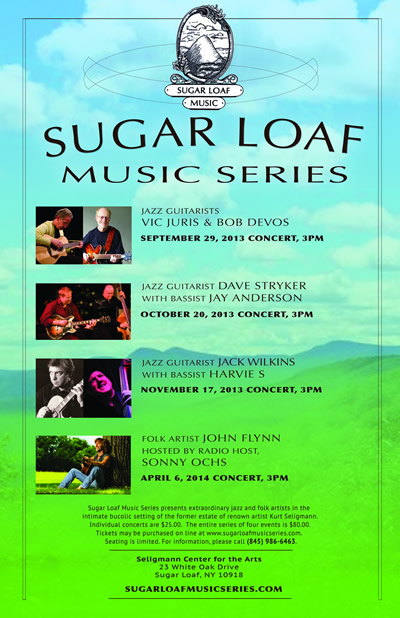 On Sunday, September 29th, at 3 p.m., Sugar Loaf Music Series, produced and founded by Russ Layne, will hold its first concert of the season at the Seligmann Center for the Arts featuring two notable jazz guitarists, Vic Juris and Bob Devos. The series will continue in October and November and conclude next spring.
The Sugar Loaf Music Series has a long history of music making in the area. Layne said, "I started it almost 30 years ago, in part with the idea that Sugar Loaf was an ideal place for music with its scenic backdrops and natural beauty. It began as an outdoor music series at the Sugar Loaf Caboose, morphed into a series that filled around the school year and then moved to the Methodist Church in the village of Sugar Loaf, where we were invited to do indoor concerts."
At first the series featured musicians who played folk and jazz, musicians like Tom Paxton, Dave Van Ronch, Christine Lavin, and jazz greats Ray Barretto and Phil Woods. Later the series moved to Orange County Community College where it was part of their cultural series and then moved back to Sugar Loaf, the Pavilion Stage at the Lycian Theatre, where it resided for 10 years.
3 years ago Layne decided to put the music series to rest in sync with his retirement from public school teaching, only to discover that he wasn't ready to give up his addiction to music. He stated, "My festering passion for sharing cathartic artistry has split the seams. It's probably a wive's tale that if one gives up an addiction for 30 days, one is 50% on the road to recovery. However, after three years, I fell off the wagon."
When Layne was in Glen Rock, NJ with friends listening to Juris and Devos, fate would have it that a new series would be reborn again, this time in the salon like setting of the Seligmann Center for the Arts in Sugar Loaf. "Vic Juris was Paul Simon's guitar teacher and Bob Devos has worked with many major artists. They were interested in becoming part of it. No drums – just a small grouping of musicians in an environment where the audience becomes part of the performance. "
Layne likes the idea that the audience can make a personal connection with the artists. "The intimate setting of the Seligmann lends itself to creating a sense of community," he said.
The first concert will be followed by one featuring Dave Stryker and Jay Anderson (a bass player who worked with Frank Zappa) on October 20 and on Nov. 17 Jack Wilkins and Harvie S. The last concert will be on April 6th featuring folk artist John Flynn. To purchase tickets go to www.sugarloafmusicseries.com