"Music is a higher revelation than all wisdom and philosophy. " Ludwig Van Beethoven
Beethoven may have been right on target when he discerned the power of music to connect to something deeper within each of us, taking us beyond the realms of wisdom and philosophy. Judging by the large turnout at Warwick's recent music events on Railroad Avenue, if people have not gotten their fill of higher revelation, they surely have gotten a good old time listening to some music. And maybe more than just that.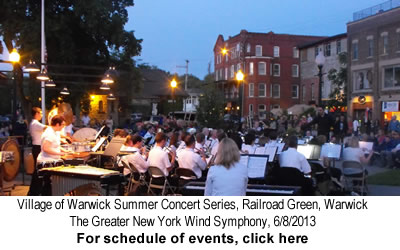 One series that is most popular is the Village of Warwick's Summer Concert Series, held on Railroad Green, where many visitors come with anticipation to experience outdoor free live music at its best. Organized by Bill Iurato, owner of Peck's Wines and Spirits and former village trustee who still leads the series, it thus far has brought together two great performances, one by the NY Wind Symphony, where we saw a 50 piece band play under the stars on a beautiful moonlit evening, and Uncle Shoehorn, who infuses their performances with a "deep and abiding love for American roots music," particularly the sounds of the Grateful Dead. This wonderful series of music events will also include evenings of Latin, Irish, Bluegrass, Jazz, Big Band and Oldies.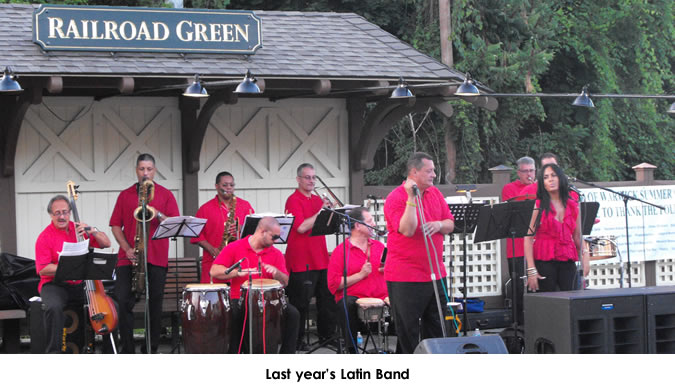 The Summer Village Concert Series is far reaching in terms of its eclectic palette, due in part to Iurato's passion for all kinds of music. The well rounded program provides a summer in which there is at least something for everyone. On July 3rd, the Free Shrimp Band will be playing a wide variety of 60's and 70's music and then on July 6, Stone Flower will give tribute to the music of Santana. Take a look at what's upcoming by clicking here. The series is delectable. Last year I even took a bus from Greenwood Lake to catch a concert, where I was dropped off across the street and later returned home on the same bus.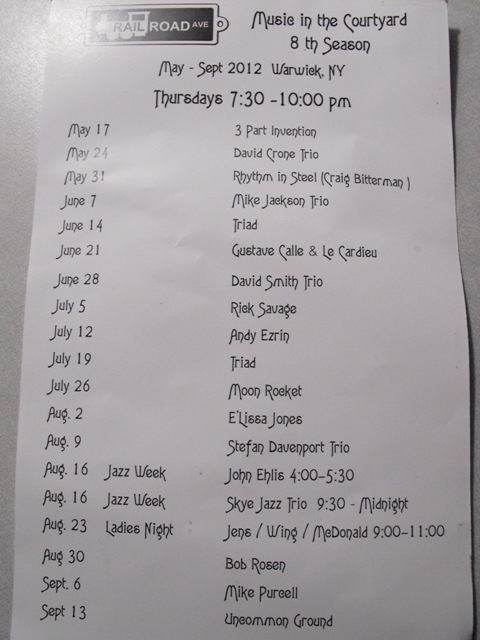 George Laurence of the Eclectic Eye, along with Tony Sylaj of Grappa Restaurant are also big proponents of helping to promote live music on Railroad Avenue in a series called Music in the Courtyard. Centered around the courtyard's piazza like look and feel, this romantic and enticing setting is the perfect destination for outdoor dining in spring, summer and early fall, with great music as its backdrop - as inviting as any Italian getaway. The series as well is as rich in diversity, ideal for more intimate and unique listening such as the New York Mandolin Ensemble and bringing in a variety of jazz, folk and other small and interesting ensembles including sought after musician John Ellis, who will be performing August 8th, and the Metropolitan Hot Club, which will be perform on August 22nd. The series is held every Thursday from 7:30 – 10:00 p.m. and on every Sunday from 4 – 6 p.m. For more information, click on the dates.
Part of the rationale of having music, besides providing soul to life, is that it brings people out to participate in our local economy. Why not? After all, these businesses are hiring musicians so that people come out to enjoy food, entertainment and to browse around in many of the quaint shops that Warwick is noted for, helping to sustain a stronger economy and sense of community.
Beethoven could probably play a few notes to that as well. Be sure to include some of these fun and special outdoor concerts in your future plans. For more happenings in Warwick and the surrounding area, visit our events calendar http://www.warwickvalleyliving.com/events/eventsbycategory/-