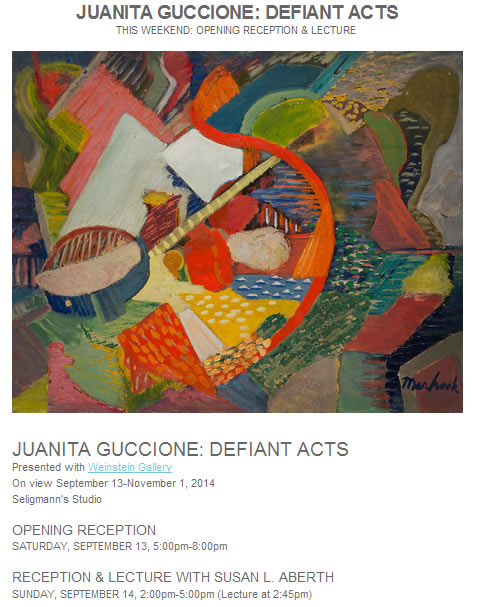 Through Nov. 1, the art work of Juanita Guccione (1904 – 1999), whose work mirrored the radically creative and philosophical underpinnings of Surrealism, will be on display at the Seligmann Estate at the Citizens Foundation, located in Sugar Loaf, NY. The exhibition is entitled Juanita Guccione: Defiant Acts.
To kick off this exhibition, on Saturday, September 13, 5 – 8 p.m., there will be a champagne reception open to the public. This is a special opportunity to view her work, mingle with the community and check out the scenic grounds of the Seligmann Estate. On, Sunday, 9/14, from 2 – 5 p.m., Susan L. Aberth, renowned author and art historian, will give a lecture on "Women in Surrealism." Aberth is recognized for her research in the fields of women artists and the Surrealist movement as well as all Latin American Art.
To help illuminate Guccione's work, we published Aberth's Under the Sol Niger: The Paintings of Juanita Guccione. Read More.
In addition, Guccione was the mother of writer and poet Djelloul Marbrook. His poem "Exile," written about her death just before Christmas in 1999, was published in Far from Algiers (2008, Kent State University Press, winner of the 2007 Wick Poetry Prize and the 2010 International Book Award in Poetry).
(Juanita Guccione, 1904-1999)
Even toasters defeated her,
but you couldn't imagine my mother
holding a brush or palette knife
uncertainly or in repose.
She painted as if she knew the number
of each brush's hairs, number, wont, complaint-
intimacies that seduced her
from glamors of society and success.
Headiness of varnishes and turps,
unctuousness of cadmium,
the asperity of her own gaze
made her expatriate in her skin.
Her world was nothing but her studio
and one of her materials eternity.