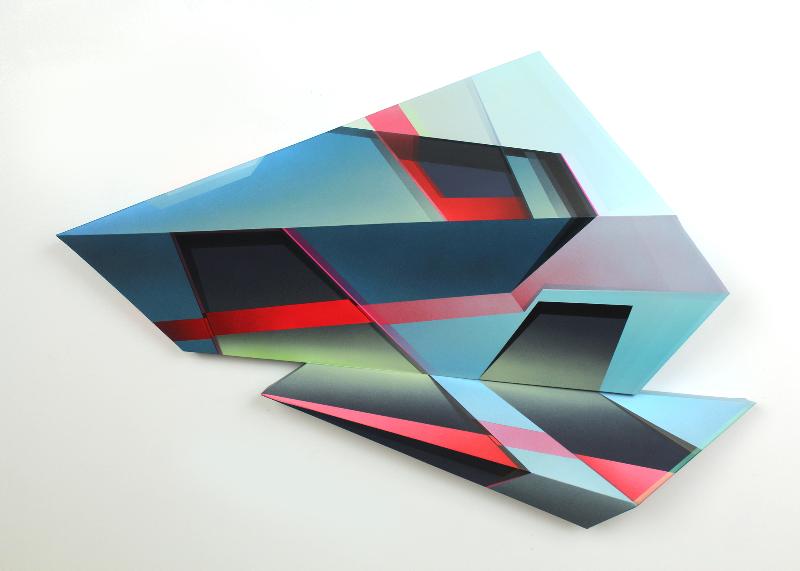 Cheymore Gallery announces a new solo exhibition of paintings by Trygve Faste.
Dimensional Shift opens this Saturday, July 27th with a reception for the artist from 5-7p, and will be on view through September 28th.
Faste's work investigates the aesthetic of desire in designed objects through abstract dimensional paintings. Through design, architecture and technology, he explores how our society has constructed and shaped the physical reality of today. The paintings are evocative of high tech consumer goods like ski gear, running shoes or designer eye glasses with their inherent ability to make the consumer crave the latest and greatest in product design. Due to manufacturing and invention, our surrounding world has become a complex environment of systems and objects ranging widely in their purpose from pragmatically functional to completely whimsical. Consumer culture, of which both art and design are integral, necessitates innovation, creativity, style, seduction and manipulation to propagate itself. Faste's work engages conceptual issues of material creation through an abstract visual language of implied technology and function.
Using the paintings as a means to explore issues around object creation, the physicality of the work is important. Faste uses a wide variety of processes and tools including traditional painting techniques, airbrushing, laser cutting, and computer aided design (CAD) to create canvas stretchers that conceptually embrace the spatial nature of the paintings. This process allows for a dynamic illusionistic relationship to take place between the implied dimensionality of the painted surface and the actual form.
Accompanying the exhibition is a full color catalogue with an essay by Susan Joyce.
Born in 1973 the artist lives and works in Eugene, Oregon. He received an MFA in painting from Cranbrook Academy of Art in 2004, and a BA in Mathematics- Computer Science and Studio Art from Whitman College in 1997. Faste has worked professionally as a designer at IDEO, WET Design, and Fakespace Inc. He uses his interest in product design as groundwork for paintings exploring abstracted imagery based on computer culture and designed environments. Trygve's work has been exhibited nationally and is in the permanent collections of The Cranbrook Art Museum, Compuware Inc. and Chrysler. Recently his work has been published in the LA Weekly and Ceramic Review Magazine, and he was just awarded an Oregon Arts Commission Individual Artist Grant for his upcoming shows in 2013. Trygve has lectured at Otis College of Art, California State University Northridge & Long Beach, Cranbrook Academy of Art, and Stanford University. He is currently as Assistant Professor in the School of Architecture and Allied Arts at the University of Oregon.
For more information or inquires please contact the gallery at

This email address is being protected from spambots. You need JavaScript enabled to view it.
---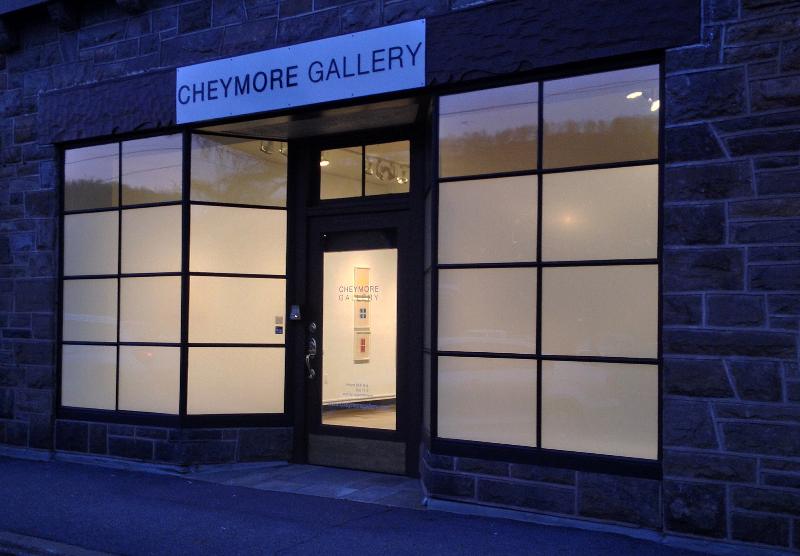 Cheymore Gallery was founded in 2011 to exhibit emerging and established contemporary artists. Located in historic Tuxedo Park an hour north of New York City, the gallery is committed to bringing contemporary fine art to the Hudson Valley region featuring New York City based artists, regional artists and beyond. The gallery hosts a program of six exhibitions annually ranging from group to solo shows.